Lost Province Cheap Date Night a good option for budgeting students
Is eating takeout Chinese and watching Netflix in the dorm for the 15th weekend in a row starting to feel less charmingly collegiate than it did back when you first started dating?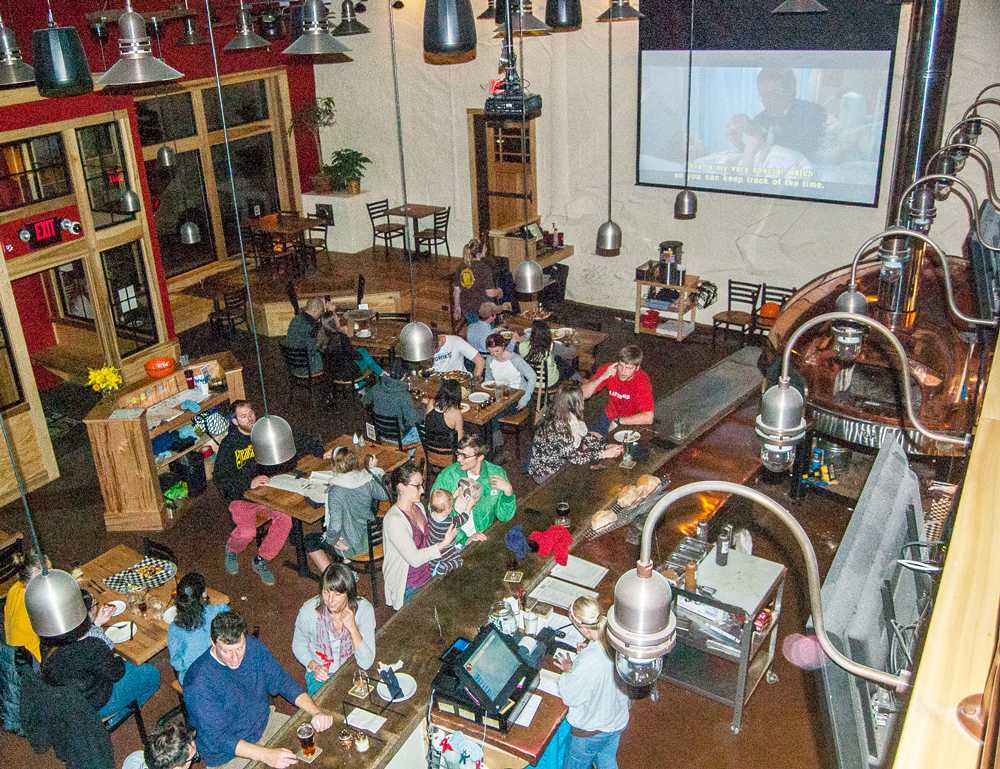 Lost Province Brewing Company on Depot Street doesn't have an app for that, but they do have Cheap Date Tuesdays – a weekly special where beers, a large salad and a small pizza cost only $25, and, beginning at 8 p.m., a movie shows on the projector.
"Initially we were going to do bingo on Tuesdays, which we were really excited about – a lot of people were – but under the state of North Carolina's laws, it's considered gambling," said Carolyn Ward, the brewery's front-of-house manager. North Carolina Alcohol Law Enforcement is in charge of licensure for gambling events, which includes bingo in this state.
Thus, Cheap Date Night was born. Around 9 p.m. Nov. 4 the restaurant was about half full with couples, families and a large group of college students in the back. The 1991 classic "Hook" played from a projector and Ward passed out popcorn to diners.
Ward said the month of November is being dedicated to Robin Williams. Next week "The Birdcage" will be shown and "Dead Poet's Society" is scheduled for the week after – another two movies in which Williams stars.
Cheap Date Night is one of many events Lost Province has started putting on with students in mind.
Wednesdays, Ward said, Lost Province offers a "happy hour" for appetizers. Between 4 and 6 p.m. all appetizers are 50 percent off and select wines are discounted, as well.
On Thursdays, all pints except high gravity beers – beers with an unusually high alcohol content – cost only $3 and half pours cost $1.50. Live music is usually included in these nights, as well.
On Freakin' Firkin Fridays, at 5 p.m. brewers Aaron Maas and Seth Hewit tap a small keg of a new infused ale and pour pints until it runs out. For Halloween, which fell on a Firkin Friday this year, Maas and Hewitt chose to infuse their blonde ale with hibiscus, creating a spooky blood-red beer.
Weekends are also quite popular for the restaurant and brewery. Lost Province sets up App State football game parties on game day Saturdays and on Sundays, discounts are given to residents of the "Lost Province" of North Carolina – historically Watauga, Ashe and Alleghany counties.
Ward, Maas, Hewitt and the rest of the Lost Province team have been working and reworking these weekly specials since the spot opened in August, in an effort to attract and retain customers. So far, Ward is optimistic that the buzz will spread.
"I think more and more are coming for the events," Ward said. "I think Date Night people are just starting to hear about it, people come and they're like, 'Oh, there's a movie showing,' and then they stay for it."

Story: Emma Speckman, Intern A&E Reporter
Photo: Cara Croom, Photographer