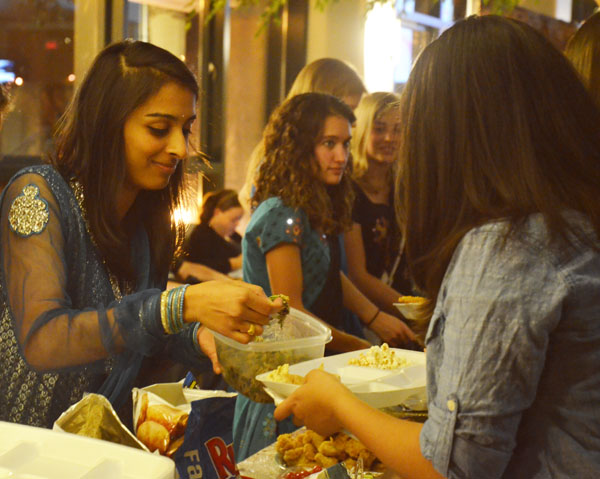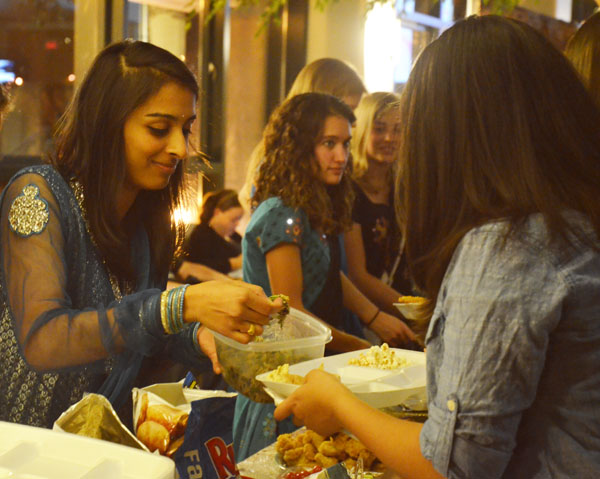 The Muslim Student Assocation hosted its annual potluck celebrating Eid-al-Adha Friday night in the Plemmons Student Union Solarium.
The potluck gave attendees a chance to share stories about Muslim culture, watch traditional dances and try food from other nationalities.
During the potluck, members of the club sold "evil-eye" bracelets and offered to draw Henna tattoos. Profits went to help Syrian refugees.
"This is the third year as a club putting it on," said MSA President Lena Aloumari. "Each year it's getting better and bigger."
Usually translated to "Feast of the Sacrifice," Eid-al-Adha is an Islamic holiday that commemorates Abraham's devotion to God. According to scripture, in order to test Abraham's devotion, God asked him to sacrifice his first-born son Ishmael. Abraham agreed, but at the last moment God intervened and provided him with a ram to sacrifice instead.
Guests were encouraged to bring dishes that represented their personal culture and heritage.
Aloumari brought traditional Egyptian food that her mother had given her recipes for.
"The majority of club members are non-Muslim, white Christian people interested in learning about the culture and religion," Aloumari said. "Our whole club is based on diversity. That's why we're under Multicultural Student Development."
This year, the feast began Oct. 26, but due to scheduling conflicts, MSA chose to push the potluck back.
Aloumari, who used to live in Egypt, wanted the event to be done as traditionally as possible.
"It's a different way of celebrating over there. Everyone has school or work off," Aloumari said. "I skipped all my classes Friday to have time to cook and get everything ready."
Gus Pena, the club's faculty advisor, said the goal behind MSA events is to "get beyond stereotypes."
"I'm hoping that events like these will allow us to draw similarities and come together," Pena said.
Story: EMMA SPECKMAN, Senior A&E Reporter
Photo: MAGGIE COZENS, Photo Editor