Conditions for Price's return would span two years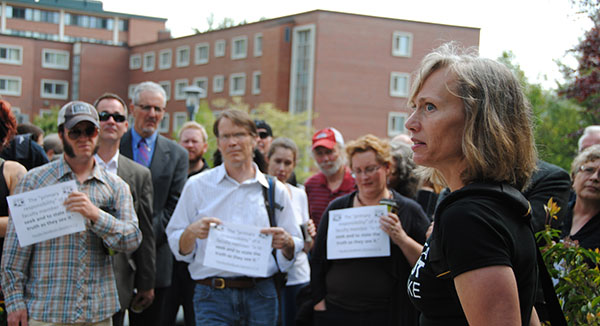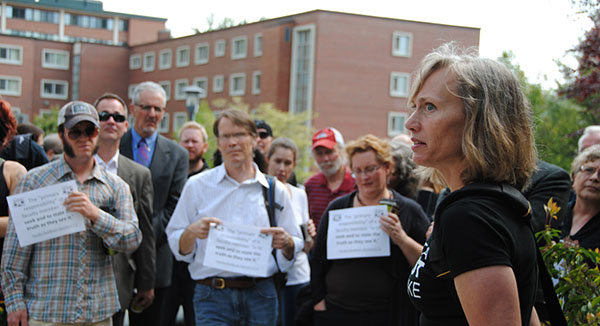 Less than a week after her Wednesday march to the Office of the Provost, tenured Appalachian State University sociology professor Jammie Price found herself in the same building discussing her future at Appalachian.
Price met with Provost Lori Gonzalez, Associate Provost Tony Carey and Neva Specht, associate dean of the College of Arts and Sciences, Monday at 10 a.m.
Around 40 people showed up to support Price, who was placed on administrative leave March 16, according to a letter sent by Carey.
The letter lists seven allegations made by students. Among the allegations are claims that Price failed to follow her syllabus and instead dedicated class time to unrelated political discussion, and that she "repeatedly criticized the university administration and stated that the university is racist." The letter also references "The Price of Pleasure," a documentary on pornography that Price showed her class March 7. The documentary has dominated much of the discussion of Price's administrative leave.
On Monday, Price emerged after an hour and announced to the crowd that she would be allowed to return in the fall of 2012 only under certain conditions, which she did not accept.
"The university finds that I create a hostile teaching environment in my classroom and that, subsequently, I need to go through lessons and how to teach better," Price said. "I will be provided a teaching mentor and I will be watched closely from here on out – basically put on teaching probation. I have not accepted these terms."
The university outlined conditions of Price's continuing employment in a letter she posted on the Facebook group "Academic Freedom and Due Process at App State" Monday.
Those conditions would span a two-year period and require Price to accept a teaching advisor, work with Specht to draft a professional development plan, participate in professional development and education activities, create a fully-developed syllabus including disclaimers for controversy, produce planning documents for sensitive content and submit to random peer reviews, according to the letter.
Most individuals at the event voiced displeasure with the administration's decision.
History professor Shelia Phipps held a sign that read "I teach history without warning."
"I started to list all of the things about history that I teach that are disturbing," Phipps said. "History is about human behavior and a lot of it has to do with bad things humans do to each other. I don't warn students about difficult topics, which is one of the things the faculty member was accused of."
Other faculty and staff members held signs that read "Forgive me, I have consistently strayed from the path of my syllabus" and "Due process matters."
Students – like junior communication major Hannah Snyder – also joined in the protest.
"The world isn't really a pretty, happy place all the time," Snyder said. "It's important to get educated – especially about things we wouldn't get educated about, like porn documentaries."
Some students felt differently, including sophomore psychology major Anna Mac, who was enrolled in Price's class. Mac was in the classroom when Price showed the documentary.
"It was kind of disheartening to see how they attacked the students in the classroom," Mac said. "They were using 'conservative' in a very negative connotation and saying we weren't mature enough to be in college. I'm a sophomore and I'm very well-aware of these things, but I personally don't feel comfortable watching pornographic images in front of people."
For a PDF of the full letter detailing Price's administrative leave, visit wsoctv.com/documents/2012/apr/25/letter-professor.
Story: ANNE BUIE, Senior News Reporter
Photo: OLIVIA WILKES, Photography Editor