Quiet Givers and Appalachian join efforts for Watauga children
Quiet Givers, a group that works with the community to improve the lives of those struggling, has partnered with an Introduction to Non-profit Management class to collect school supplies for children in Watauga County.
"We are all about connecting agencies in the community with individuals who want to know how to help," said Amber Bateman, executive director of Quiet Givers. "We're a community action group that has a grassroots effort to meet the needs of those that are falling through the gap."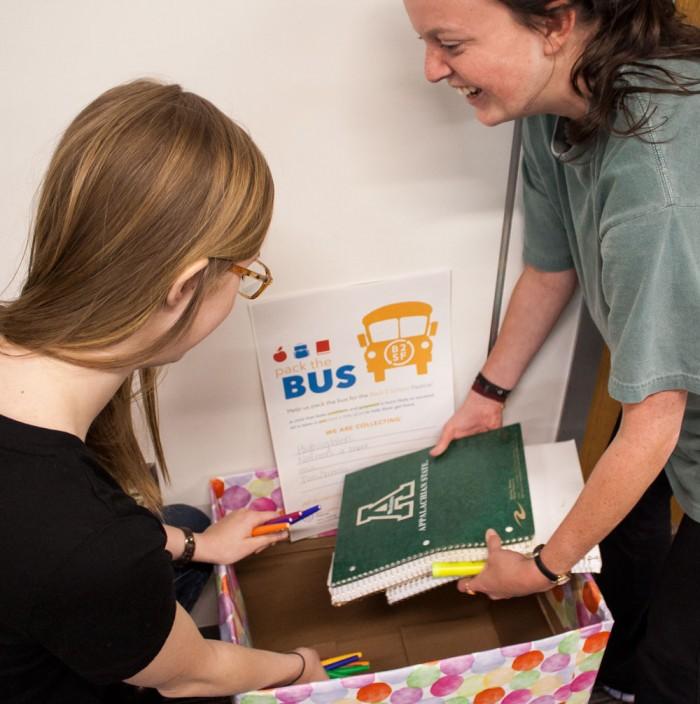 Donations are being collected in the Appalachian and the Community Together Office of Plemmons Student Union and in the lounge of the second floor of Edwin Duncan Hall through May 2. The effort calls for individuals to specifically donate glue, highlighters, notebooks and paper.
Bateman said although the group is asking for those four items in particular, all donations are welcome.
"Specifically at Appalachian, we are putting our efforts on four items because collection efforts are more successful when focused," she said. "We are collecting any supplies though, we will also be collecting from local businesses."
Rachel Brouwer, a sophomore social work major in the class, said Quiet Givers strongly believes in bringing together members of the Watauga County for a mutual cause.
"The donations will go, first, to a collection of supplies for Quiet Givers' second annual Back-to-School Festival in August, a community-wide event to which families and students who cannot afford their own school supplies can come and have those needs met," Brouwer said. "From there, the supplies go straight into the hands of the students who need them."
Bateman said this is Quiet Givers' first time partnering with the university.
"We're trying to get faculty, staff and students to be aware of the event, of the need in the community," she said. "We need help with participation in strengthening the education effort in Watauga County."
Brouwer said this is an important effort in Watauga County where the poverty rate is 29 percent, with 41 percent of students in county schools qualifying for free or reduced rate lunches.
"Quiet Givers feels that it is extremely important for all students to be able to feel self-confident when they begin a school year," she said. "When their families cannot afford basic school supplies, it is easy for them to feel ashamed amongst their peers."
Story: Nicole Caporaso, News Reporter
Photo: Rachel Krauza, Senior Photographer