Rock-the-Vote event encourages student voter registration
In celebration of National Voter Registration Day, Rock-the-Vote partnered with bands Les Racquet and The Nude Party to host a concert at Duck Pond on Tuesday evening.
Rock-the-Vote is a national nonprofit, nonpartisan organization that works to get young people politically active.
The free collaborative event began at 6:30 p.m. and included partnerships with the Watauga County chapter of the NAACP,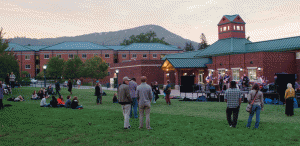 the Southern Coalition for Social Justice (SCSJ), Miss World United States Elizabeth Safrit and the mayor of Boone, Andy Ball.
Ball said Appalachian State University was selected for the event at a state Board of Elections meeting after national light had been shed on Boone via The Rachel Maddow Show.
"This is an important event because it reiterates and reminds students of the Oct. 10 deadline for voting registration," Ball said.  "Voting in N.C. has become much more transient with various new restrictions, so it's a very good thing that Rock-the-Vote and Les Racquet could come to Boone to honor the right to vote and continue to encourage student-voter registration."
In 2012, voter ID laws were passed by the state legislature that require voters to present a government-issued ID, excluding college IDs as an acceptable form of identification at the polls. The law also ended same-day registration, and cuts the early-voting period by a week.
On-campus early voting sites were also denied by the state BOE last month with a 4-to-1 bipartisan vote.
Special Projects coordinator for Rock-the-Vote Sara Tabatabaie said she was surprised so many students at the concert had already registered to vote.
"There are tons of Rock-the-Vote events going on across the nation today for National Voter Registration Day, and I'm so glad I got to come to Boone," Tabatabaie said. "A lot of students have stopped by to enjoy the music and double check that they are registered. Overall, it's been a positive night. I think it's important to encourage students to participate in the world around them."
As the night went on, Les Racquet, an indie band from Brooklyn, New York, and Boone-based band The Nude Party were joined by speakers Safrit, Executive Director of the SCJC Anita Earls and president of the Watauga County branch of the NAACP, Mary Lyons.
Freshman advertising major Tyler Bizjack said he heard about the event from a friend, and made a last minute decision to attend.
"At first I was just excited about the live music, but I hadn't registered to vote yet so it was helpful that there were volunteers there to guide me through that," Bizjack said. "Registering wasn't a long process, and I got to enjoy the music for the rest of the night with friends."
Story: Madison Barlow, Intern News Reporter