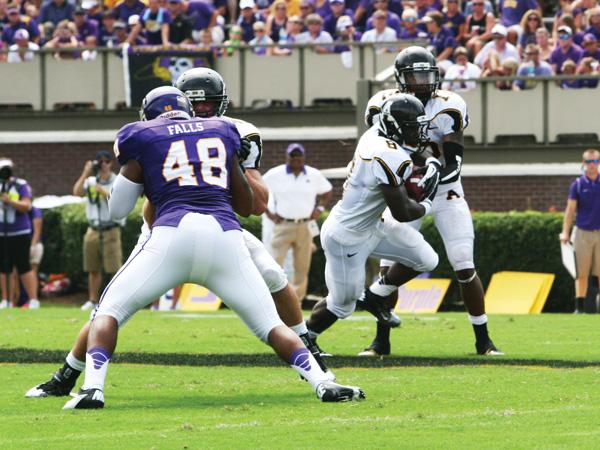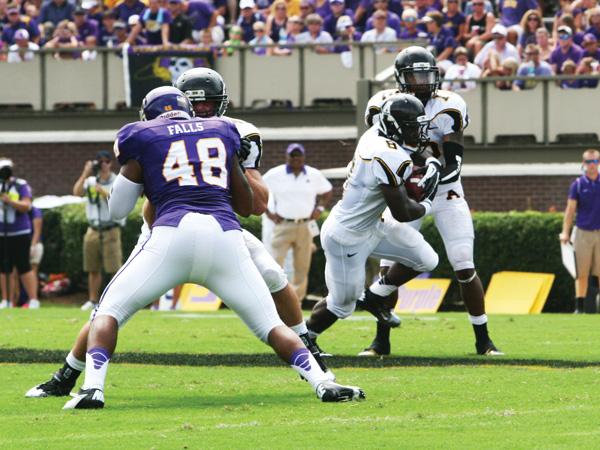 Running back Rod Chisholm's hand injury against East Carolina was just the sarcastic cherry on top of his collegiate career.
Following the injury, Chisholm was out of the lineup once again.
And after sitting out of competition all of last season, due to not meeting NCAA academic eligibility requirements, his hand injury just seemed to make things worse.
But now, during Appalachian's ensuing playoff run, Chisholm expects to be healthy and impactful.
After Chisholm went down early in the season, senior Steven Miller earned the opportunity to be the starting running back.
But now that Chisholm is back in the fold, all either of the running backs can do is smile.
Miller explained that both he and Chisholm balance each other out. He added that their running back combination is like "wind and fire" and good for the offense.
"I'm more of a slash and dash type guy," Miller said. "He lays the wood."
"Both [Chisholm and Miller] feed off of each other," ASU head coach Jerry Moore said.
The particulars of how Chisholm got to this point in his football career are overwhelming.
He had to overcome life in a single-parent home just to make it to Appalachian State. And after finally working his way up to earning significant playing time, his failure to meet the NCAA academic eligibility requirements forced him to sit out the entire 2011 season.
After earning the starting job during the offseason, his goal of having a healthy and prominent 2012 season was derailed almost as soon as it began.
After regrouping in the classroom from a subpar academic performance in 2010-11, Chisholm returned to ASU athletics' academic honor during the 2012 spring semester and regained eligibility. He was welcomed back with open arms, and his teammates voted him team captain over the summer. Chisholm was considered by his teammates to be one of the leaders of the offense.
After rushing the ball nine times for 37 yards in Appalachian State's opening game against East Carolina, devastation struck once again.
Chisholm injured his hand in the third quarter and it turned out to be broken.
He then spent the rest of the game tracking the sideline, finding himself once again in a bad position.
"At first it was hard, but my teammates got behind me and supported me," Chisholm said. "My mom raised me to be strong, telling me never to let anyone see me down and to never get down on myself, because at the end of the day, all I have is me and my lord."
Fortunately, the hand injury didn't ruin Chisholm's season.
While it was important for Chisholm to let his hand heal, it was still the type of injury that he could successfully bounce back from before season's end.
Today, his hand is 100 percent healthy. He has been practicing and receiving playing time over the past few weeks, and now he has a shot at making an impact as Appalachian State football enters the final stretch of the season.
Chisholm isn't going to be cautious, either. His mentality is focused on pushing himself to be the best on every play, knowing that each chance to play is precious.
"I think when the guys look at me and they see that I am always positive, it translates toward them striving to be better," Chisholm said. "I try to lead the right way and go 100 percent every day in hopes that my teammates will follow my example. I just try to give the guys some of the best advice to become better players as well as better men."
When the playoffs begin, the Mountaineers will be glad to have their mentally strong running back on the field.
And Appalachian's potent offense is going to keep getting better as the season continues.
"It's like a 1-2 punch" Chisholm said, referring to how he and Miller are used as running backs. "I haven't been much of a punch yet, but I will be pretty soon."
Chisholm feels certain that he and his team will move forward successfully, partially because of the time he spent with the scout team during his ineligable junior season.
"You have no substitutes on the scout team and you are the only one at that position," Chisholm said. "So I was going 100 percent every day and every play, and just giving the defense the best I could. That made me into a better player – to realize that once I do have my opportunity that I need to go 100 percent every play. This is what I want. I have been playing this game since I was seven years old and I am going to get after it."
Story: CHASE ERICKSON, Sports Reporter