Spring game helps football team prepare for next season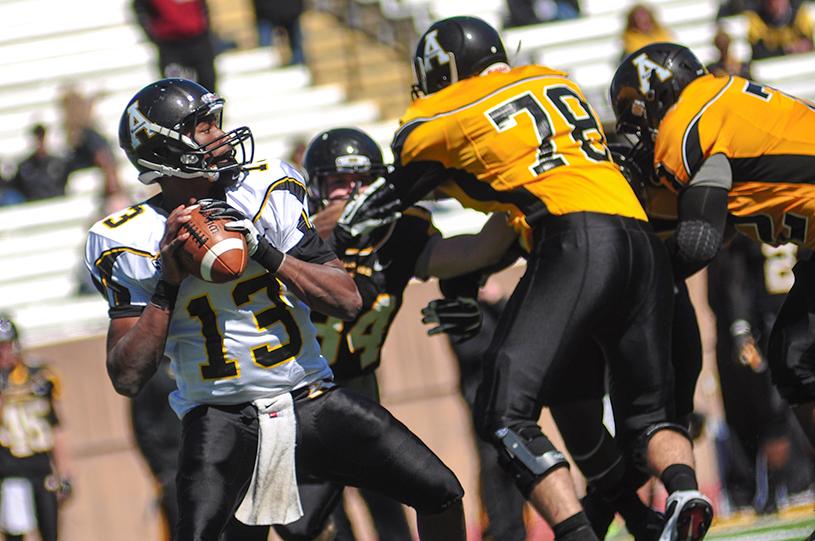 In a scrimmage that didn't see many points on the board, fans saw their first glimpse of the 2013 Appalachian State football team.
The team was split into a Black squad and a Gold squad for the annual spring scrimmage, each with its share of talent.
Freshman Zach Matics led the Black team to a 12-3 win, successfully kicking three field goals. He also averaged 42.2 yards on his punts – promising talent that will be needed with the loss of NFL prospect Sam Martin this year.
Head coach Scott Satterfield said that they were spoiled the past few years with Martin and being able to line up in a pro set and just "boom" the ball down the field.
But he said they are trying new things such as a spread formation and he likes how Matics is doing.
"To me, Matics has really had a good spring," Satterfield said. "The first week not as good, but the last probably 10 practices [he] has really solidified himself as our guy right now. When it comes down to fall and August, we'll really solidify who our guy's going to be and be able to execute that play."
Sophomore Simms McElfresh was also a key component for the Black team, catching eight passes for 84 yards. The Gold team had a good showing from senior Andrew Peacock, who had five catches for 51 yards.
"We had a lot of fun today," McElfresh said. "We've had a couple of 150-play scrimmages and they were real long, tedious scrimmages. This one was just go out there and compete against each other and have some fun; bragging rights really."
Without Jamal Londry-Jackson playing this spring due to an injury, juniors Kalik Barnes and Logan Hallock stepped up to lead both offenses, however neither led their team into the end zone.
"It's always disappointing not scoring, but I'm still happy [with] what we did today," McElfresh said. "We moved the ball a decent bit. Obviously, without Jamal, it's a little different, but Logan [Hallock] and Kalik [Barnes] have done a great job stepping up."
Satterfield was also disappointed that they didn't score a touchdown, but is happy with how the spring has gone overall.
"It's been a really, really good spring," Satterfield said. "We were dealing with a lot of young players I think overall, especially on defense, and then on the offensive line. We've got a couple of guys who have played but they're all young."
Sophomore Doug Middleton, who had three solo tackles, four assisted tackles and two interceptions, also agreed that this spring has been about developing young talent.
"[The spring game is], for a lot of the young guys, just preparing for the game situations," Middleton said. "It's a real young team. We've got a few seniors, but most of the people that are going to be playing are really young. So any opportunity we have to get them prepared for game situations, we're going to take it."
Sophomore Malachi Jones started out the game with a scary moment as he fell awkwardly on his leg and needed assistance off the field. He would return later that possession.
"[The leg is] fine," Jones said. "On the first play, I went up for the ball and when Anthony Covington and I fell down, he just came on top of it sideways and kind of rolled up under it."
He has received high remarks from Satterfield on his play this spring, something Jones said came from his practice mentality.
"I go 100 percent because I know that once this day is gone, there's no going back," Jones said. "I've learned that you can't waste days because you never know when your last is. Some people dread practice but I just see it as another opportunity to get better."
Story: ANDREW CLAUSEN, Sports Editor
Photo: JUSTIN PERRY, Staff Photographer