Students vicious to attend biscuit shop opening
Monday morning brought a day of wind and snow to Boone, but the weather didn't put a stop to the buzz around town as breakfast fanatics anticipated the opening of Vicious Biscuit, open Monday-Friday 7 a.m.-3 p.m. and Saturday and Sunday 8 a.m.-3 p.m. The biscuit shop, located where the iHop used to be at 702 Blowing Rock Road, hosted a formal opening at 7 a.m. Monday. Preceding the formal opening was a soft opening with family and friends hosted Jan. 22.
"They handled a lot of people pretty fast, honestly. And we got free beanies, so props to them for giving beanies out," said senior biology major Mitchell Vermilyea. 
While Vicious Biscuit promised its first 100 visitors free beanies, it quickly changed to 150 when people showed up earlier than expected. An Instagram Reel posted the morning of the event showed a line wrapping around the building.
"There was people lining up with, like, blankets around them, all the way around the back. It was insane," said sophomore business major Amaya Barbier. 
Barbier is one of many App State students now employed at the restaurant. Much of the corporate and training team was also present to compensate for the large turnout. 
The company's press release identified Vicious Biscuit as one of the "hottest fast casual breakfast concepts in the Southeast with massive, over-the-top biscuit creations and iconic Southern hospitality." Restaurant-goers such as Anna Moneyham, junior middle grades education major, identified hospitality, great atmosphere and good food as reasons she wished to return. 
Among the most popular orders is the Fat Boy, a dish many chose the morning of the event. The dish includes spicy fried chicken and pimento cheese-filled biscuit sandwich smothered in hot sauce.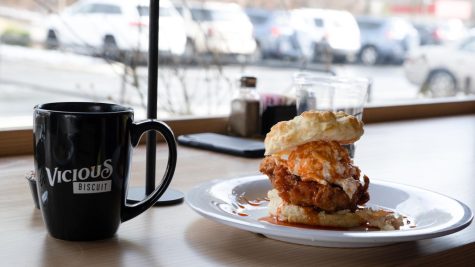 The Charleston-based company boasts four other locations, two of which are also in North Carolina college towns. Chief Operating Officer Michael Ball identified college towns as one of the target locations for the franchise as they are "the best way to get national marketing," citing that businesses in these areas "get a lot of recognition." 
"Boone's not the sleepy little town it was 20 years ago. It's bumping all year. So it was kind of a no-brainer for us, and this amazing spot came available," Ball said.
Vicious Biscuit's fast-casual serving style takes inspiration from McAlister's Deli, a chain Ball played a role in establishing before his time with Vicious Biscuit. The Boone location is their largest so far.