Barks and brews 10th annual K-9 keg pull
Dogs of all shapes and sizes gathered at Appalachian Mountain Brewery Saturday for not a kegger, but a keg pull. From huskies to chihuahuas to labs and mutts, every dog and human was welcome for a fun day of racing to support Partners! Canines. 
This is the 10th annual High Country K-9 Keg Pull. Lynn Smith, regarded by her colleagues as the "fearless founder," got the idea from a customer at her taproom who suggested they do a keg pull. After some research, Smith connected with Partners! Canines to make it a fundraising event for the organization helping rescue dogs from euthanization. 
"I love dogs, I love beer and I like to have a purpose," Smith said.
The event relies on the help of volunteers and donations from local businesses. Businesses like Pet Place, Mellow Mushroom, Mast General Store and more donated items for the gift baskets given to race winners.
Partners! Canines was founded by Melissa Bahleda in 2007. Originally a for-profit dog training business, Bahleda switched to a non-profit rescue organization after she discovered a need to help abandoned and homeless dogs throughout Wilkes and Ashe Counties. 
With a $25 registration fee, humans could sign their canines up to race down a short distanced turf track as they pulled a keg, or beer can, behind them. Divided into four different weight classes; small, medium, large and extra-large. 
When it was their time to race, some canine competitors took off like a rocket, making it from the start to finish line in the blink of an eye. Others got distracted by the smells and smiles of spectators.  
Small dogs like Magnolia, who weighs in at a pocket-sized seven pounds, pulled a single empty beer can while 140-pound Bernese mountain dog Tiberius pulled a sled with an empty full size keg on it.
This milestone year proved to be memorable, with an all-time record of 3.2 seconds. The small speedster Georgia, affectionately nicknamed Scrappy-Doo, won fastest time overall. This was also the first year there was a human contestant, Zander Guay, who rolled a keg to the finish line in 12.02 seconds.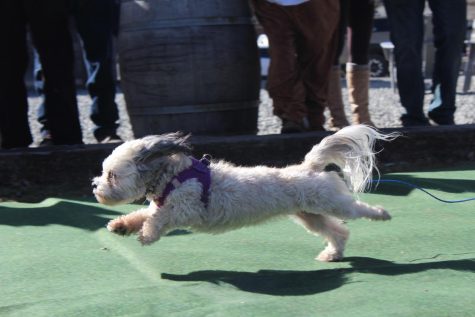 Two pups held the spotlight as they are currently up for adoption. Tigger is a 10-month-old puppy with high energy and lots of love, said foster mom Debra King. Rose is a two-year-old black Australian shepherd searching for someone to match her energy and love for cuddles. Both dogs are still looking for their forever homes. 
All proceeds from this event go toward Partners! Canines. Secretary India Foy said the organization works to help make dogs adoptable by treating them for any illness or disease, getting them spayed or neutered and keeping them safe. The donations and contributions allow this organization to continue transferring animals at risk of being euthanized in high capacity shelters to safer environments.