Why there's no reason to panic about an 0-2 start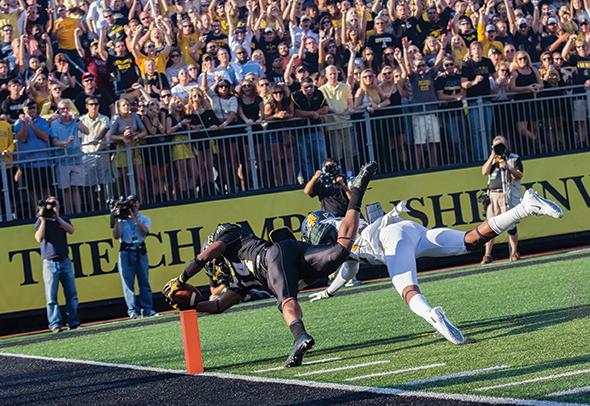 It's not surprising that fans aren't dancing in the streets about Appalachian State football's first 0-2 start since 2009. There hasn't been that much to cheer for.
Sure, in the final six minutes of the game against North Carolina A&T, we came back within three and then missed the field goal to tie. But as the hundreds of fans who had already left will tell you, we had no business winning that game.
And we had no business winning in Montana.
But things aren't all bad for App State. In fact, there's quite a lot to be excited about.
The Youth
Not to take anything away from the veteran core of the Mountaineers, but our young guys are looking good.
Who's leading the team in rushing yards? Freshman Marcus Cox (52 total yards) and sophomores Ricky Fergerson (97 yards) and Kameron Bryant (34 yards).
Most surprising of all is who is leading in passing yards. It's not senior quarterback Jamal Londry-Jackson, but actually Bryant.
Bryant hasn't started either game, but has a passer rating of 138.1 for 307 total yards, two touchdowns and one interception.
Londry-Jackson has a passer rating of 99.6 for only 209 yards, one touchdown and two interceptions.
Granted, we're only two games into the season. Londry-Jackson is recovering from an injury and could still be dealing with issues there and Bryant could be riding on beginner's luck.
But this should be exciting for fans.
These leaders will be with the team for the long haul. They'll be Mountaineers next year when we start playing Sun Belt teams and the year after when we become bowl eligible.
The future looks bright.
Does this season matter?
No.
It's the unfortunate truth about moving between conferences. There's going to be an awkward lame-duck period where, in all honesty, wins and losses stop mattering.
Is this a good excuse? Absolutely not, but it is important enough to be acknowledged by fans.
Now, this doesn't mean that players don't care or coaches stop coaching, it just could be in the back of their heads. Hopefully, the fourth quarter display from last Saturday mean that the Mountaineers haven't let this affect their will and effort.
But time will tell, when things get tough (or tougher). Will this team show the same fight they've shown over the years and have been known for? That's the key question.
The Sean Price factor
It's no secret the suspension of sophomore wide receiver Sean Price has hurt the team's offensive coordinator.
Last season, Price played in 10 games and had 1,196 total receiving yards, averaging 119.6 yards a game. He also had eight touchdowns on the year.
That's huge to be without. But notice he played in 10 games, not 12. Price was suspended last year for two games and still went on to lead the team.
It could happen again.
Tony Washington and Simms McElfresh are holding their own at the wide receiver spots, but not having a third weapon is putting unnecessary defensive pressure on the two and hindering their production.
Although head coach Scott Satterfield is saying there's no timetable yet to his return, it wouldn't surprise me to see Price back for the Sept. 21 game against Southern Charleston.
Will history repeat itself?
The last time the Mountaineers went 0-2 was in 2009. They then had a bye-week, just like this year.
But then they went on an incredible run, winning 11 straight games by an average of 15 points before losing to No. 1 Montana in the playoffs.
While 11 straight seems like a long shot, turning the team around doesn't.
There's a good balance of talent on the field and a good balance of talent in coaching. There's no reason why, after a well-timed bye-week, the Mountaineers can't reel off a winning streak and go out as a SoCon powerhouse, just like they deserve.
So don't panic. Keep calm. App State's been down before, and they've come out stronger than ever after.
Story: ANDREW CLAUSEN, Sports Editor
Photo: PAUL HECKERT, Senior Photographer