Women's Theatre Troupe performs original work
The Appalachian Women's Theatre Troupe performed "A Part Equal" at the I.G. Greer Studio Theatre last weekend as its second production since forming last year.
"A Part Equal" is an original work of historical research by Derek Davidson, Department of Theatre and Dance lecturer. The play consists of a series of monologues and short scenes, each highlighting the life of a woman of importance to Shakespeare and the theater society from the 1500s to today.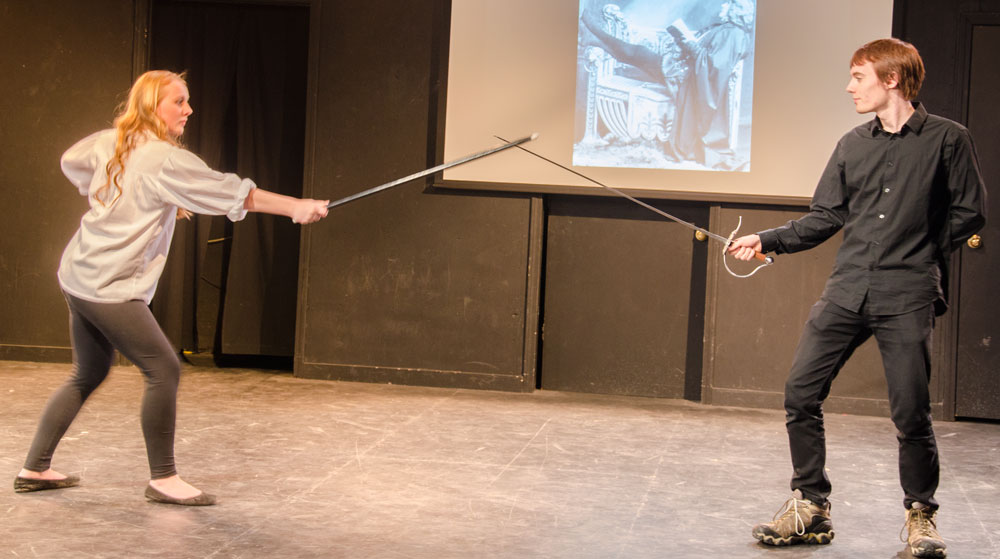 "Most of the writing has just been the process of researching these interesting, exciting, strong women and seeing what they have to say," Davidson said.
Davidson compiled much of the script from written historical accounts, including journals, diaries and letters.
"Most of it is their firsthand words," Davidson said.
Because of this, actresses had the opportunity to research their characters in depth, bringing to the stage not only a dramatic reenactment, but also story elements from real life.
"There are characters that are extremely powerful women, there are characters that are going through a struggle, but they're each powerful in their own separate ways," said Rachel Leishman, a senior theatre arts major who plays several characters in the show.
The play is part of the High Country Theatre League's celebration of Shakespeare's 450th birthday, one of the largest celebrations of its kind, and the direct result of the troupe's exploration of the legendary playwright.
"A lot of times these festivals say they are celebrating Shakespeare, and you think of 'Romeo and Juliet,' you think of 'Hamlet' or 'Macbeth,' but you don't think of the man who was writing all of this," Carmen Lawrence, Women's Theatre Troupe president, said.
In their search for a way to participate in the celebration, all actual Shakespeare plays fell short of the club's goals to highlight women's issues throughout history, Lawrence, a senior theatre arts major, said.
"You talk about women's rights like it's one topic – it's so many different topics," she said.
Director and senior theatre arts major Paige Borden said that while every woman featured in the play is historically significant in some way, the majority are still relatively unknown.
Actress and junior theatre arts major Savannah Core welcomes the show as a change of pace from traditional ways to celebrate Shakespeare. She sees the progression of women's actions throughout the show as another interconnected way to celebrate the importance and impact that the theatre can have on women.
"It shows that yes, we have come far, but we still have a ways to go," Core said.
While the objective of the club is promote female roles, there were still two male performers in the work, playing many characters each for storytelling purposes.
Lawrence said that since the Department of Theatre and Dance plans on cutting down on the number of out-of-class productions available to student groups, the new club is making plans to secure alternative spaces for next year's productions, and hopes to still produce at least one play each semester.
Story by Lovey Cooper, Senior A&E Reporter
Photo: Morgan Cook, Staff Photographer