Best of Boone 2023: Best for Alumni
Best Thing to do While Visiting Boone as an Alum: Football Games
By Leah Boone | Associate Opinion Editor
The crowd erupts into cheers. The student section storms the field. Yosef sprints through the streams of fans as the band begins to play the victory song. This is App State football.
The App State football team has been involved in a conference since 1931, with the popularity growing more and more annually. As the back-to-back-to-back NCAA national championship winners in 2005, 2006 and 2007, the Mountaineers have been known as a force to be reckoned with for quite awhile. 
Throughout the years, App State has only grown in size and supporters. A fair amount of people with season passes are alumni who come back to support their alma mater every chance they get.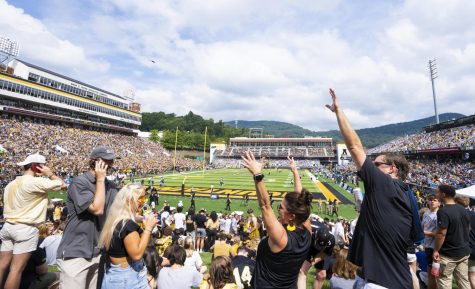 "I think a lot of alumni go, especially now since it's just grown so much. It's really fun to see, you know, how far we've come. It's very, very exciting," said Lara Pinnix, a 1993 graduate.
Since App State has grown so much, and the football team has become much more well-known, many alumni feel that the football scene is more enticing nowadays. 
"When I was a student, I mean, I would go to football games, but I was not into the actual football. It was the social scene," Pinnix said. "And App was not nearly as good as they are now, I mean, they've come a long way."
App State also has a very active tailgating scene before all home games, which many alumni attend. A large majority of adult fans found tailgating throughout the campus are alumni, wearing as much App State gear as they could find and showing their utmost support.
Boone in general, but specifically App State, has grown significantly over the course of a couple decades. Many alumni also enjoy coming back to campus simply to walk around and see how things have changed. 
App State football has had many historic wins, the largest arguably being the victory over Michigan in 2007. Since this upset, App State has shocked fans multiple times with last-second or seemingly impossible victories. 
App State hosted ESPN College GameDay Sept. 27 following the 17-14 win against Texas A&M, which was a tremendous occurrence for App State football and added to the amount of support for the team.
"We made the big times when Armanti Edwards was there, and it's only gotten bigger and better since; the level of play and the excitement," Pinnix said.
Alumni of App State are a very important part of the campus community and will remain so for years to come. Football games especially bring back nostalgia for graduates of the university while also bringing excitement due to the amount of success the team has had in recent years.
Regardless of how long ago one graduated, App State remains in a special place in each alumni's heart.
"Every Thanksgiving we go up and just take it all in, and we always go all around campus and downtown. It just takes me right back; even though it has grown tremendously, there are certain things that are still the same," Pinnix said. "It makes me feel young again."
Best City for Alumni: Charlotte
By Brionna Dallara | Associate A&C Editor
Those preparing for life after college will find a divine mix of urban and suburban living options in Charlotte. It's no surprise it's been deemed the "Queen City" because according to App State graduates, this concrete jungle rules. 
App State alum Andrew Jarrett, a certified public accountant, can attest to the professional and personal opportunities Charlotte has provided post-graduation. In his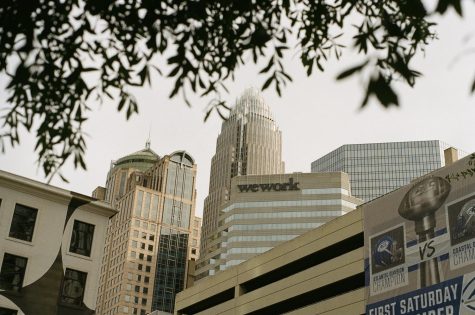 experience, Jarrett said the city's close proximity to both Carolinas provides many professional and personal benefits and opportunities.
Thrill seekers can visit Carowinds for one such opportunity. This amusement park spans  the North Carolina-South Carolina state line, and it is even accessible to city-dwellers via the light rail, the first major rapid rail service in the state.
According to Forbes Advisor, who ranked the metropolitan area the fourth best place to live in North Carolina in 2023, this accessible transportation is key for young professionals commuting in "North Carolina's largest city." Graduates who foresee interstate or international travel in their commutes have access to a major international airport and a quick beach vacation is just three hours away.
"As a CPA, Charlotte has allowed me to work with clients from an array of industries — restaurants, breweries, real estate development, manufacturing, sport-related industries and professional industries — which not only affords me diverse work experience but keeps the work interesting," Jarrett said. 
Located in the city are both the Bank of America headquarters and the bank's stadium that is home to the Carolina Panthers, but the corporate presence in the metropolitan area doesn't stop there. Future residents can learn about the 25 largest companies in Charlotte and their job opportunities in a career guide posted by Indeed in March.
Jarrett said with so many different types of businesses in one area, networking and opportunities for connections are vast. 
"From a personal standpoint, our family values Charlotte's convenience to both the Appalachian Mountains and the Carolina Coast, as well as the proximity to entertainment such as concerts, professional sporting events and renowned performances through Blumenthal Performing Arts," Jarrett said. "And the food. The food is great." 
Jarrett's mention of The Blumenthal Performing Arts Center and the food is a testament to the culture and cuisine that's accessible to residents of the urban hub. 
Those who love the performing arts can attend a slew of events at the Blumenthal, ranging from performances by the Charlotte Symphony Orchestra to musicals like "Legally Blonde." On the other hand, those wanting to explore the city with their taste buds can navigate the restaurant scene using local publications like Charlotte Magazine. Their annual restaurant list is a culinary compass to your next meal in Queen City. 
Best Alumni Chapter: Charlotte
By Madison Nance | Opinion Writer
The App State Alumni Association aims to ensure alumni remain connected with the university and those within it, and to provide countless opportunities even after graduation. The Charlotte Alumni Chapter maintains the promises they committed to by creating opportunities for dozens of Charlotte alumni to continue to be involved with each other hosting many App State related events. 
The website mentions the chapter is "committed to fulfilling the mission of the Alumni Association; to foster a mutually beneficial, lifelong relationship between the University and its alumni; to inspire loyalty and pride among current and future alumni; and to advocate for excellence in teaching, research, and public service." 
Among the variety of the App State themed events hosted by the Charlotte Alumni Chapter, things like hAPPy hour at local bars and restaurants, hockey games for friends and family, adopt-a-street volunteer cleanups and annual holiday parties are common occurrences. Alumni are also prone to gathering to watch Mountaineer sporting events.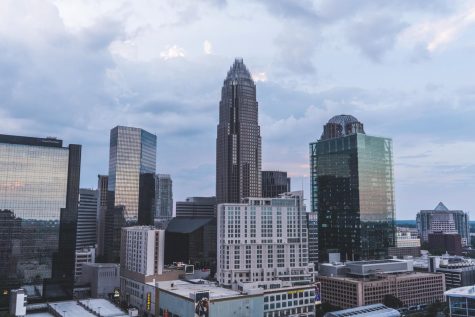 Alongside the social gatherings made to support alumni, the chapter also continues to find ways to support the community via school supply drives and frequent local clean-ups of public streets. Frequent posting on their Instagram page, @appstatecltalumni, also assists in ensuring veteran members of the chapter and newcomers continue to interact and connect with one another. 
Their website also aims to bring alumni together, stating, "Our chapter hosts events and activities for App State alumni and friends throughout the year, and there are many ways for you to get involved! Check back regularly for new and exciting events in our area." 
Continuing to bring together App State alumni is of great importance to the Charlotte chapter, and is part of what makes them the Best Alumni Chapter and one of the best places to go for fresh graduates or App State alumni who are looking to engage with others in a familiar community. 
On top of social and community events held to bring alumni together, the chapter also offers dozens of programs and services to assist alumni in connecting back to App State. With over 8,882 alumni in the Charlotte area alone and 142,000 alumni around the world, the alumni chapters continue to encourage connection between all former students. The Charlotte chapter has certainly proved that with effort and the incredible community connections that can be formed, no matter the year of graduation.