Appalachian State's first Sun Belt Conference football schedule was released Saturday.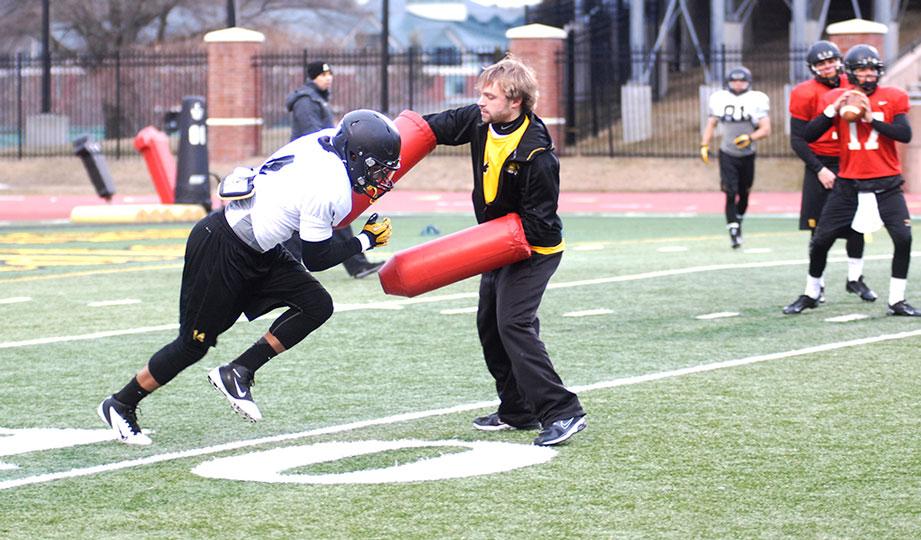 The season begins with a trip to Ann Arbor, Mich., on Aug. 30 for a rematch of the 2007 upset against the Wolverines. The Mountaineers will host its first home game of the season Sept. 6 versus Campbell.
Junior quarterback Kameron Bryant and sophomore linebacker Kennan Gilchrist said the team is excited to start the season but is remaining focused on improving in its first season in the Sun Belt.
"We've got guys that want to compete and make up for last year," Gilchrist said. "We're going to continue to work hard."
The Mountaineers' 12 opponents had a combined 63-84 record last season. Bryant said the team is focused on getting ready more than worrying about which teams are scheduled.
"We're excited to be the first group of guys to be playing in the Sun Belt," Bryant said. "But we have to prepare now."
The 2014 Appalachian Athletics Hall of Fame ceremony will also be held during the home opener. Nominations are being accepted for candidates through April 1 and anyone can make a nomination via an online application form on appstatesports.com.
After hosting Campbell, the Mountaineers will have a bye week. Head coach Scott Satterfield said the early break presents a chance to assess the team's strengths and weaknesses early in a season in which the team is not eligible for the postseason due to changing conferences.
"You take those two games and figure out where you are and what you need to work on," Satterfield said.
The Mountaineers will play its first Sun Belt game against Georgia Southern on the road Sept. 27.
The Eagles are joining App State in moving from the Southern Conference to the Sun Belt next season. The matchup is also Georgia Southern's first conference game.
Since 1932, App State and Georgia Southern have met 29 times with the Mountaineers holding the advantage in the series 16-12-1. Each of the past three seasons, App State has defeated a favored Eagles team, most recently in a 38-14 victory in Boone last season.
The Mountaineers will have two sets of back-to-back home games when the team hosts South Alabama and Liberty on Oct. 4 and 11 and when Georgia State and Louisiana-Monroe travel to Boone on Nov. 1 and 8.
The game against Louisiana-Monroe is slated to be the annual Black Saturday game, while the match up against Liberty is homecoming.
App State closes the season with a road trip that pits them against Arkansas State and Louisiana-Lafayette before returning home to face Idaho in the final regular season game.
"Right now we're focusing on spring practice and doing the best we can," Satterfield said. "We're excited about the schedule and we're working toward that first game in Michigan."
Story: Cory Spiers, Sports Editor
Photo: Morgan Cook, Intern Photographer