As a freshman, adjusting to the busy schedule required of student-athletes can be difficult.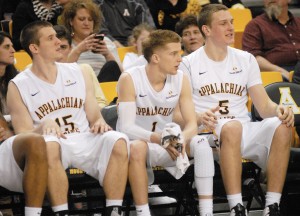 But the process has been a bit easier this season for App State men's basketball freshman forward Griffin Kinney, as he and fifth-year senior forward and captain Tommy Spagnolo have formed a bond that has helped assimilate Kinney.
Both forwards hover around 6 feet, 8 inches tall, and weigh somewhere around 225 pounds, but Kinney said the bond was likely built on circumstances rooted deeper than that.
"We both weren't highly recruited out of high school," Kinney said. "We kind of take the underdog mentality every time we get on the court."
Spagnolo walked on to the team in 2012 after transferring from Radford University, where he played one season. Kinney committed to App State after a year at Fork Union Military Academy, where he also played one season.
"'Griff' is like a little brother to me," Spagnolo said. "He's really tough. I knew that from day one. It's fun, it's kind of like a sparring partner."
Spagnolo, who currently leads the Mountaineers with 7.4 rebounds per game and a 51 percent field-goal percentage, has always let his tough style of play speak for itself- something Kinney said he has admired since joining the team.
"He plays real tough," Kinney said, "When he gets the ball in the paint, he's either going to get fouled or finish. It's just real tough, blue-collar basketball and it's something I like."
Kinney has appeared in 24 games and is averaging 15.5 minutes per game, 3.6 points per game and 2.9 rebounds per game.
Junior guard Frank Eaves said that the relationship between the two forwards has had a noticeable impact on Kinney.
"Each and every day when he's on the court, I know 'Griff's gonna bring the toughness just like Tommy," Eaves said. "I think he'll continue to improve offensively and defensively, but especially on defense, 'Griff' will guard anybody, you know. He doesn't have a problem putting his body on the line, much like Tommy."
Kinney said he hopes to be a similar type of player when he is Spagnolo's age.
"I like how he finishes at the rim and he's real tough in the paint," Kinney said. "I want be able to do that, and play on the wing when I'm his age. I guess the little brother has to take over the big brother some time."
Both players also acknowledged there are many things each can continue to improve upon this season, but Kinney noted one area in particular he thought the captain could work on.
"Tommy can improve on smiling," Kinney said. "The kid needs to smile more."
Spagnolo, Kinney and the rest of the Mountaineers hit the court again Thursday to face Georgia Southern.
Story: Chris Warner, Sports Reporter
Photo: Cory Spiers, Sports Editor