Indigo De Souza performs sold out show at Legends
Asheville-based artist Indigo De Souza performed her indie-rock songs at a sold out show at Legends Saturday night. The event was hosted by APPS. 
De Souza, singer and songwriter, performed some of her top hits including "Kill Me" and new single "Young and Dumber" with her four-member band. The band consists of violinist Libby Rodenbough, two guitarists, Dexter Webb and Landon George, and drummer, Avery Sulivan.
Housewife, a Greensboro and Winston Salem-based band, opened for De Souza and performed released originals such as "Mangos Taste like Flowers" along with unreleased originals like "Aftermath".  They also covered mainstream artists like Steve Lacy and Paramore. The four-member band are Seniah Wray, lead vocalist, Joseph Cline, drummist, Ryan Mole, guitarist, and Lazuli Ortiz, vocalist and bassist.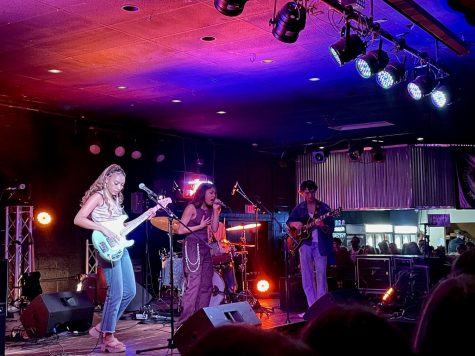 De Souza has almost 800,000 monthly listeners on Spotify and was featured on The New York Times, Pitchfork, NPR and more national outlets writing about the rising indie-rock artist. She's signed by Saddle Creek and her musical influences range from Elliott Smith to Author Russell, according to an article by RadioMilwaukee. 
"We're really focused on bringing artists to campus that represent App State music taste and what they want to see," said Bradley "Friday" Freitag, junior psychology major and chairperson of APPS Mainstage Council which plan, promote, and work events on campus for students. 
  "I want them to come and live out the experience in the moment," Freitag said.
Students lined up at 6 p.m outside the venue, waiting to enter the sold out show and listen to the music that the local N.C. artist had to offer. By the time the doors opened the line stretched down to the sidewalk near Phil's Gastown on Hardin Street. 
"I'm looking forward to hearing the songs I know and hearing local music," said sophomore health care management major Clair Scott. Scott heard about the show when she saw flyers posted in Plemmons Student Union. 
"We've been looking for our people and I think we found our crowd," said Wray, housewife lead singer, as the crowd cheered and danced to their music. 
The audience chanted "Indigo" shortly after housewife finished their set, cheering for her to come on stage. De Souza entered from the left side of the stage, putting on her white Gibson SG-Z guitar, while her band set up on stage. 
"Did you guys know that this place used to be a Winnie-Dixie?" she said to the crowd. 
 De Souza also revealed an album release "All of This Will End" which is set to release April 24. 
"I have never been more excited about anything in my entire life," De Souza said on an Instagram post about the announcement. 
Kallie Eastwood, elementary education major, and Lita Fandozzi, junior child development major, both said the experience of being at the show was their favorite part about tonight.
"Getting to hear the opener and Indigo herself, the whole experience of it all was our favorite," Fandozzi said. It was her first time being at Legends and heard about the show through Engage. 
"Thank you for having me Boone," De Souza said before she performed her last song of the night.