The Black and Gold boasted a relatively successful 2023-24 season. However, as the team moves to lace their cleats back up and move into the fall 2023 season, let's catch up on the summer happenings. 
By Nov. 14 of last year, head coach Aimee Haywood's side signed 11 new players to the Mountaineer's roster. Since then, the team signed a new international player, freshman midfielder Hannah Löfmark from Vaxjo, Sweden. Löfmark, who played for Mallbackens IF in the Swedish amateur league, became the second Swedish player on the team alongside sophomore midfielder Felicia Erkenfeldt who hails from Rydeback, Sweden. 
This marks 12 new signings since the 2022-23 season. Something highly successful teams attribute their success to is not necessarily the age of the team or the presence of only seasoned players, but the interplay and interaction between those players. 
Scoring quick goals, not getting caught in the midfield and making smart passes which won't result in lost possession is something players who know each other can do with greater success. Players who "know" each other are those who have spent time together, on and off the pitch, have played together and know how to read each other on the field. 
This ability generally comes from time spent cultivating that knowledge. This can be quite difficult to do when a team is young and there is an influx of new players. The influx of fresh perspectives and players who are looking to distinguish themselves is something that also sets apart great players, but more importantly, great teams.
The youth of the App State side, especially with the influx of new players, is not inherently concerning; it is intriguing. It is not the inherent quality of youth that decides the success or failure of a season, but what one does with this youth. This season will be sure to answer that question. 
Since the 2022-23 season, the coaching staff inked new signings as well. Haywood announced Aug. 15 that Erica Hanson and Emilene Parham joined the coaching staff. 
Hanson will serve as the director of soccer operations and Parham will join as an assistant coach after playing as a graduate student as a transfer in the 2022-23 season. 
Parham appeared in 17 matches for the Black and Gold before transitioning to coaching. Hanson joins the team after serving as an insurance specialist at AppOrtho.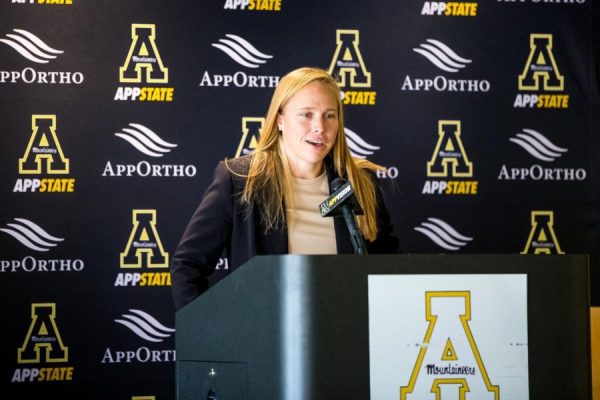 They will join Haywood and assistant coaches Mark Catterall and Mikayla Krzeczowski in coaching the side this season. 
Despite the 12 new signings, there are still some distinguished Mountaineers to keep an eye on this upcoming season. Fifth year senior goalkeeper Kerry Eagleston graduated in the spring of last year and will continue to play for the Black and Gold as a graduate student. 
Eagleston is a game changing player; she has been a seasoned player for the Black and Gold throughout her entire time, and her presence on the field helps to guide newer players and shape the team as a whole. She is not only one to keep an eye on, but one who will help shape Haywood's side this season. 
Additionally, senior midfielder Katie Fuller is another seasoned player who will shape the outcome of the 2023-24 season. Fuller played 18 games in the 2022-23 season, making 11 starting appearances. Of the nine shots she made, four of them were on goal with three of those four being converted to actual points on the board. 
Fuller is a playmaker for the Mountaineers and looks set to shape this season's outcome in both points and mentality. 
The final player to keep an eye on is senior forward Izzi Wood. Wood played in all 19 matches in the 2022-23 season, 18 of which she started. She led the team in goal scoring with six goals from 24 shots on goal and 52 shots in total. 
  Wood's formidable presence on the pitch is even more eyebrow-raising considering she did not play during the 2021-22 season due to injury. If her momentum from the previous season continues, Wood is set to be another senior player who shapes the mentality and scoring record of the Mountaineer side in the 2023-24 season.  
The Black and Gold finished last season with a 6-9-4 overall record. In conference play, they ended their season with a 5-5 overall record.
This team has the potential to convert those losses into wins, as long as they utilize their fresh blood along with a winning mentality and a hunger for it to happen. These are all indicators this Mountaineers team could emerge from the season victorious. Only time will tell how the result will shake out, but it will be an interesting ride to get there. 
App State soccer posted their full schedule on the App State Athletics website. The Mountaineers played their second match Sunday against George Mason at home with a blistering 3-0 win. App State soccer will play their next match Thursday at UT Martin. The match will be streamed on ESPN+.