Navy sailor proposes on Sanford Mall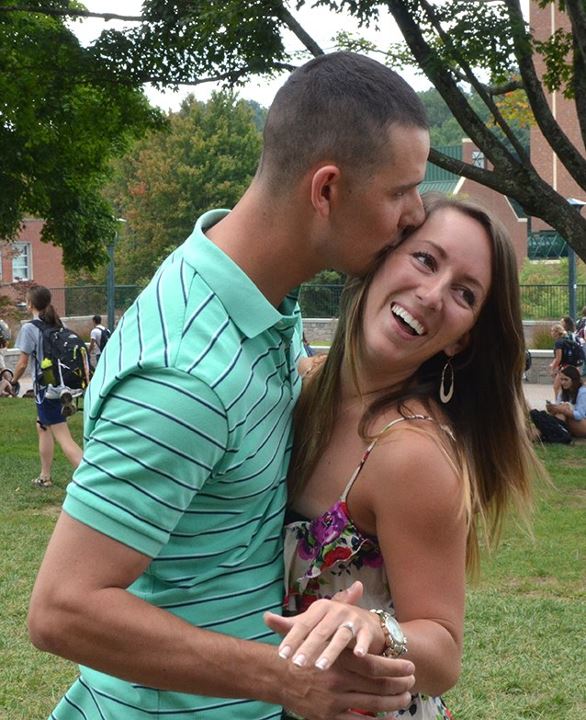 Last Wednesday, senior Kasie Goforth thought her boyfriend, Navy sailor Phil Myers, wasn't returning to North Carolina until Friday.
Myers had her under the impression that his base in Gulfport, Miss. was locked down due to Hurricane Isaac.
Goforth, a senior health care management major, realized she was wrong Aug. 29, when Myers proposed to her on Sanford Mall. He got her attention via whistle blast. When she saw him, she started running toward him.
Myers knelt on one knee and told Goforth he had to ask her a question.
"I hit him in the shoulder saying, 'Are you serious?'" Goforth said. "I honestly didn't know if this was the real thing, until he pulled the ring out of his pocket and it hit me — this is really happening. He then asked me if I would make him the happiest man in the world, and said those famous words: 'Will you marry me?' The tears were flowing, so it was all I could do to answer his question with a simple 'yes.'"
Goforth said she's always wondered what kind of man she would marry, what color his hair would be and what name she would claim as her own.
"Twenty-three years of wondering and God gave me a man much more than I could have ever imagined and wished for," Goforth said. "I am so excited to spend the rest of my life with my best friend."
Story: TAYLOR BRIGGS, Intern A&E Reporter