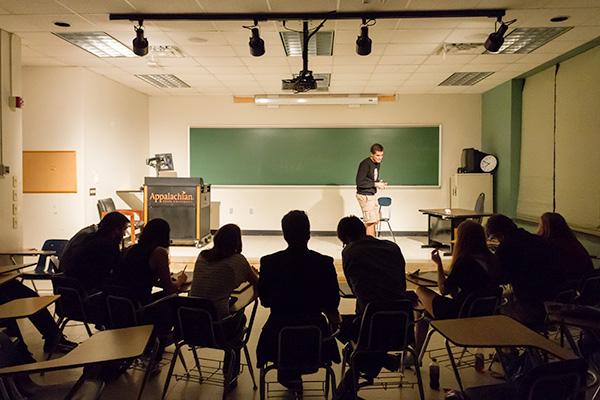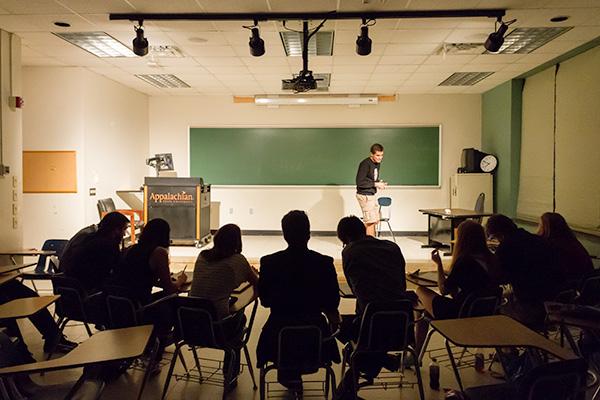 NOUN, Appalachian State University's only improv comedy troupe, has big plans for the coming year.
With the troupe's annual show at Legends scheduled for Oct. 23, they've already jump-started the process by adding three new members to their lineup. The two-week open auditions attracted approximately 25 interested students of all majors to fill the spots left vacant by graduated members.
Senior political science major Alex James was one of the three accepted into the troupe, after not making it last year. James, who has held a lifelong affinity for improv comedy, first encountered NOUN at the Dirty South Improv Comedy Arts Festival in Carrboro, the largest comedy festival on the East Coast, where Appalachian was one of the only two college improv teams to perform and lead workshops.
"Improv is one of those interesting things where you can study it a lot, but you can never really learn it," James said.
James worked at DSI Comedy before transferring to Appalachian from UNC Chapel Hill as a junior. In addition to his previous experience with comedy, he also participated in workshops with NOUN members.
"I'm excited about working with all these new people and about what they can teach me," he said.
The key to a successful performance by any improv troupe is the energy and chemistry between the people on stage, James said – an energy that he already observed in existing members of the team.
"Even though we call some games by different names, we still keep a lot of the same traditions that they started 15 years ago," said David Rudow, co-president of NOUN.
Rudow has been a member of the team since his freshman year. During the club's 15 years, many generations of members have passed down theater games, strategies and leadership, keeping a consistent bond between old and new members.
Shane Jones, co-president of NOUN, met two of the club's founding members this summer in Chicago at a month-long, intensive improv training session. Improv Olympic, the organization that hosted the training, is widely regarded in the comedy world as the birthplace of long-form improvisational comedy.
Appalachian alumnus Ross Bryant now performs in Chicago with The Second City, the enterprise where now-famous comedians like Tina Fey, Mike Meyers, Stephen Colbert and Steve Carell got their starts. Bryant is now being considered for a regular spot on Saturday Night Live, according to a Rolling Stone article that listed him as one of 10 likely cast members.
"NOUN has never been just theater kids," Rudow said. "Everybody who's in NOUN is talented, and everyone goes on to do their own things, and sometimes we also have people that just go on to have regular jobs and do normal life things."
This variety of interests, which Jones attributes to the fact that Appalachian is not a "specialty school" in terms of performance arts, often fuels more complex and distinct character building on stage.
"I really do think that NOUN has more of a devotion to improv than most other college teams I've seen," Jones said.
In his first year as co-president, Jones hopes to bring some of the tactics he learned this summer to NOUN, most importantly the idea of trusting one's teammates on stage.
"The main thing I'm bringing back from this is to love your own ideas, love everyone else's ideas and give support while feeling supported," Jones said.
STORY: LOVEY COOPER, Senior A&E Reporter
PHOTO: WILL PHILLIPS, Intern Photographer