As App State Athletics prepares for the 2023-24 collegiate season, here are a few social media accounts to follow throughout the year.
House United 
Found on both Twitter and Instagram, House United shares all things App State Athletics related. Currently, their account promotes each Mountaineer football player every day until the season kicks off Sept. 2.
The idea began in 2020 and was thought up by 2009 App State alum James Jestes. His vision revolves around fans and alums supporting Mountaineer student-athletes. A portion of their support is from selling Mountaineer apparel, including name, image and likeness jerseys and custom replica jerseys, with 20% of all sales going to the Student Yosef Club. 
Adam Witten
Witten's been the radio play-by-play announcer for App State football since 2016, and is an App State alum. He tweets throughout the off-season on Mountaineer football commits and former Mountaineers in the NFL. Witten's Twitter account has over 8,300 followers.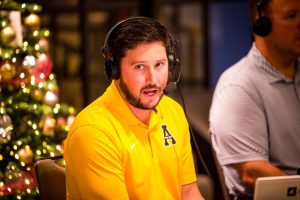 Additionally, Witten provides his annual 100 days until App State football countdown that shares unique Mountaineer statistics related to each day. During the season, he appears on "Nothin' but an App State Podcast," "Mountaineer Talk" and "The Black & Gold Rewind."  
The Black & Gold Podcast
A recurring Wednesday podcast keeps listeners up to date both on and off the field, with recaps and previews during the season. Hosts Alex Johnson and Charles Haynes, both App State alums, interview Mountaineer coaches and players throughout the off-season. 
Their first episode debuted August 2015, intended to bring a high-quality medium for App State fans. Each episode can be listened to on Spotify, Apple Podcast and Google Podcast.
On Twitter, they hold raffles and banter against rival schools to show their support for the Mountaineers. They also share comments on App State Athletics-related Twitter posts with over 8,000 followers. 
Today I Give My All
Dave and Candace Martin, 2003 App State alumni, have over 8,000 tweets and 3,000 followers on their Twitter account. They took over the account in 2020 after its creation in 2015 by Andy Thompson. They share and comment on "Everything App State" to engage the Mountaineer fan base. From Twitter polls to re-tweeting the latest App State football commit, they keep App State fans up to date. 
On Facebook, they share the latest scores and several memes throughout the football season. Their page includes over 7,000 followers, while also promoting their merchandise. On their retail site, they sell numerous App State things, from apparel to tailgate essentials. The website holds the purpose of being a one-stop shop for everything App State.  
Dusty Korns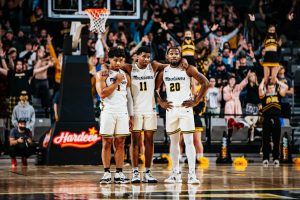 A parody Twitter account of Mountaineers basketball head coach Dustin Kerns primarily follows App State basketball. With over 9,000 tweets Dusty Korns promotes the basketball team by encouraging fans to attend every game while also bantering with rival schools.
They also tweet several GIFs and memes relating to App State basketball and all of App State Athletics. Cameron Fagala started the account in November 2019 after the Mountaineers came up short against Michigan 79-71 and continues to run the account. Fagala's goal was to bring awareness and shine a light on the basketball program, as most of App State Twitter primarily focused on football.