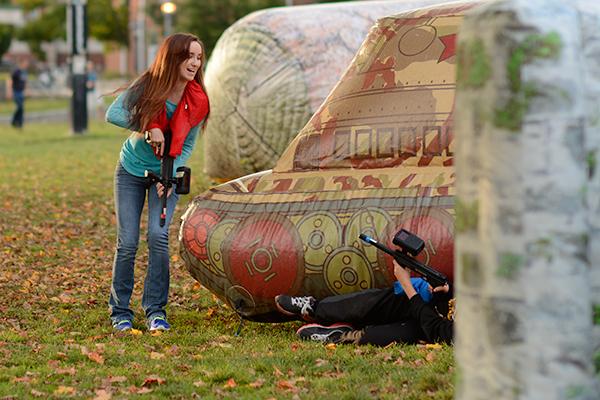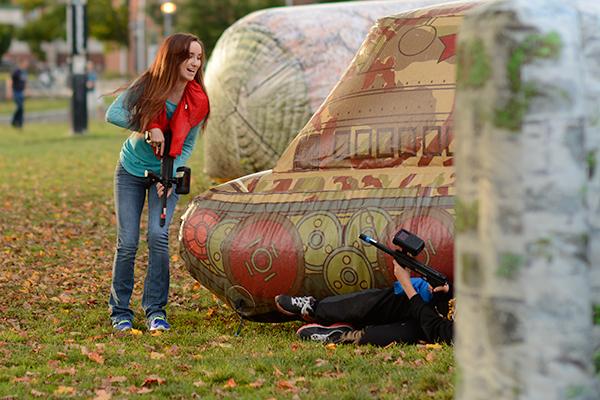 A crowd of Appalachian State University students gathered on Sanford Mall on Friday to experience the campus' first tactical laser tag event.
Teams of six took the battlefield – each with 10 lives – and combated until the last person was standing.
The event, sponsored by Appalachian Popular Programming Society's Special Events crew and Kramer Entertainment, Inc., drew passersby and laser tag fans alike.
"It's a wicked good time," said Dustin Amerson, who has worked with Kramer Entertainment for the last eight years. "It's the most fun when it's outdoors."
Sanford Mall is one of the largest open areas on Appalachian's campus and served as an adequate venue for the blow-up tanks, radioactive barrels and castle turrets.
Booming music from the speakers on-site could be heard throughout the east side of campus, creating an exciting atmosphere for players and onlookers.
The first teams to take the field were Twerk Team and Awesome Sauce. The players battled it out using different maneuvering tactics and aiming strategies until a winner was declared.
"We play for the rugby team, and we like team-building activities," said junior exercise science major Ryan Gipson, whose team name was actually Rugby Team.
Several participants played multiple games, stopping just to catch their breath and socialize in between.
APPS Special Events chairperson Patrick Sullivan noted the anticipation leading up to the event.
"We've been wanting to do this for a long time now, and this is the first time it got voted in," he said.
Sullivan kept confusion at bay throughout the night by directing players and managing a list of teams.
By 8 p.m., the sun had fully set, and the darkness brought a new factor to the battlefield. The music was still booming, and the crowd showed no signs of diminishing.
The event finally finished around midnight.
"This is a nice alternative to a Friday night," Sullivan said.
Story: MEREDITH WARFIELD, Intern A&E Reporter
Photo: JUSTIN PERRY, Photo Editor