A shift in tradition
Changes coming to The Appalachian in the 2021-2022 academic year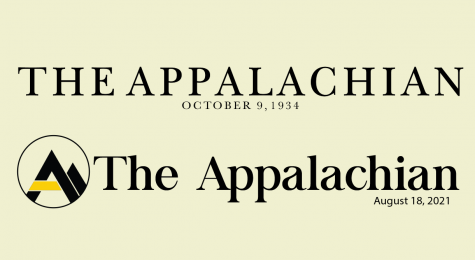 For nearly 90 years, The Appalachian has served as the student-produced voice of daily life not only at Appalachian State University, but in the community at large. What initially started with its first printed newspaper in October 1934 has continued for almost nine decades, covering big stories at App State and in Boone and providing thousands of students over the years hands-on experiential educational opportunities in news media. But we've made some changes over the years, going from printing once every two weeks, to once a week, to twice a week, and then back to once a week; incorporating a website into our offerings; adding video broadcasts, podcasts, interactive graphics; and jumping into the realm of social media. 
However, like the rest of the world, COVID-19 forced us to change our operations almost overnight in March 2020. Although we continued publishing content on our website and sharing news through our social media channels, we ceased printing our regular weekly issues. In August 2020, facing another academic year impacted by COVID-19, we shifted to a weekly email newsletter and a weekly PDF version of our newspaper in an effort to reach students, faculty, staff and citizens who were working, studying and connecting with us remotely from all over North Carolina as well as the world. While keeping these virtual media channels running, our staff also experienced a shift in advisers in fall 2020. Even with our major staffing changes, we were still able to successfully adjust to these uncertain and constantly changing times. During the 2020-2021 academic year, we maintained a staff of around 75 to 100 students and received more than 50 awards combined at the state, regional and national levels recognizing our reporting, photography, advertising, graphic design, video, podcasts, and more. We pivoted to working in a solely digital format for almost all of the 2020-2021 academic year, only printing a single issue — our 2021 Best of Boone edition.
After much discussion, including reviewing our audience engagement rates across platforms, looking back at how we've been able to embrace multimedia journalism while operating in this digital-first format, and discussing the future with our colleagues in college media across the country, we've decided to pivot yet again. 
Starting in August 2021, we will maintain our digital presence, refine our newsletter and return to print. The Appalachian will launch a monthly printed publication and continue our weekly email newsletter and our daily news digital operation, including sharing content on our website and engaging with our audience on our social media channels. As always, we will strive to provide relevant content geared toward both campus and the local greater Boone community.
The Appalachian's main daily outlet will be digital, focusing on fast and efficient publishing of relevant content across our website and social media accounts. A personalized, interactive weekly email newsletter will provide readers with vital information pertaining to both the university and greater Boone community. And a monthly print edition will focus on quality content and vibrant visuals, empowering our staff members to explore in-depth reporting and visual storytelling.
We receive funding from the university, which helps us to compensate our students for the work they do for The Appalachian. However, the bulk of our operational expenses — from printing and website hosting to training and entering our work into competitions — is dependent upon advertising revenue and donations. We cannot exist without the financial and educational support of our fellow departments on campus, our local and regional businesses, and donations of money and time from alumni and friends. If you're interested in supporting student journalism at App State, please reach out to our adviser, Allison Bennett Dyche, at dycheab@appstate.edu or 828-262-7543 to discuss.
Our editors, reporters and multimedia journalists have covered many firsts since our launch in 1934. Just like that very first issue of The Appalachian referred to itself as an "experimentation," we're continuing in that tradition as we blaze a new trail yet again — operating as a daily digital news operation, a weekly email newsletter, and a monthly printed publication. We invite you to join us for the journey. You can pick up our printed issues from August through May at nearly 50 locations on campus and throughout Boone. Sign up for our weekly newsletter, emailed out to thousands of subscribers each week during the academic year, by going here: https://theappalachianonline.com/newsletter/. Also, check out our website for all of the latest news year-round by going here: https://theappalachianonline.com/. And you can follow us on Facebook, Instagram and Twitter by searching @TheAppalachian.
And to our student readers, just like the first issue of The Appalachian said, this is a news outlet "of the students, by the students, and for the students… The question is 'Do you want a student newspaper?'" 
The students voted unanimously in support of The Appalachian's creation in fall of 1934, and we've been honored to write the first draft of history at App State since then. We are voting unanimously to continue in that tradition of serving our readers, and we hope you vote yes on us this time around too.
The Appalachian's mission statement:
The Appalachian, a student-run publication at Appalachian State University, strives to provide fair and accurate news for the campus community; to inform, entertain and create a forum for ideas; to provide on outlet for reader opinions; to be a champion for student, faculty, staff, and community interests; and to remain editorially independent, exercising and ensuring our First Amendment rights.