Typewriter Fest sparks heightened creativity
Vanessa Barlow, a sophomore English secondary education major, decided a few weeks ago to write a "sappy love letter," to her boyfriend, but was unsure of what medium to utilize in order to take her letter one step further. She checked her student email and noticed an email advertising the Typewriter Fest event.
"When I got the email saying we could go in and type on a typewriter," Barlow said. "I was like, 'Oh my god, I am gonna type an old love letter.'" 
While testing out the various typewriters, Barlow said she learned she has a weak pinky finger, and had to "kind of pick the keys," in order to type out her letter. 
Typewriter Fest took place April 17-21 on the fourth floor of the Reich College of Education. 
Before attending the event, Barlow said she had not given typewriters very much thought. 
"Surprising, because I like old things," Barlow said. "I collect cassettes, vinyls, I have a very old style record player, I like antique things."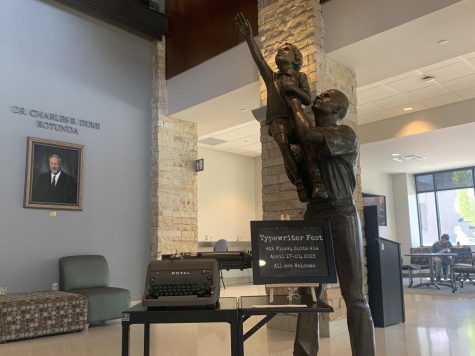 Barlow said she appreciates the intentionality that goes into carefully typing out every word. 
"I felt like creative areas in my brain were firing that do not necessarily fire when I type on a keyboard," Barlow said. "Because I have to put so much thought into it when there is no delete … there is none of the grace." 
Barlow said she hopes to purchase a typewriter in the near future, and clean and fix it up with the help of the event organizer, and self proclaimed "type-writer enthusiast," Chris Osmond. 
Osmond serves as associate director of the doctoral program in Educational Leadership. 
As an 8-year-old, Osmond said he remembers borrowing his mother's typewriter to begin writing a draft of his "book." He also recalls being discouraged after his first time typing. 
"It was so hard to create a page of text, you know, with all the misspellings, it was just a mess," Osmond said. 
His first typewriter, a 1930 beaten-down Remington, came a few years ago and he purchased it at an antique store with his wife. 
"I like writing, and it, frankly, just seemed like kind of a hardcore metal thing for a writer to have," Osmond said. 
The Remington was never intended to be utilized, and after fiddling with it for a week or so, Osmond said he placed it upon a shelf. 
It sat there until around a year and a half ago when, after struggling with his professional writing, Osmond read an article published by the New York Times, Can "Distraction-Free" Devices Change The Way We Write? 
"One of the things that had always frustrated me about writing was that writing on a laptop means I'm basically trying to do something creative on the same object and in the same position," Osmond said. 
Osmond said he shops, checks his emails, watches Netflix and even fights with his kids on his computer. 
"So when I sit down and try to do something creative there, it's like, even if nothing like that is on the screen, it's the same thing," Osmond said. 
Osmond got on Amazon and spent a few hundred dollars on a junky typewriter, which he learned how to fix up via Google. 
"It was just such a kick," Osamond said. "Because when I am writing on a typewriter, there is no other noise." 
Osmond said  focusing on a singular tab, like Google Docs, does enhance his writing, but the temptation lingers to check his notifications on his computer. 
Still, he said "In a word processing program, all of those supports are really helpful, like autocorrect," Osmond said. "But there's also a sense that the technology is writing with you." 
When students sit down to a manual typewriter, they generally realize the computer "has been doing a lot of the work," in the writing process. 
"Because if you hit two keys on a computer, a computer's just gonna decide like, 'well, this one was four milliseconds before the other one and is gonna put it first,'" Osmond said. 
Manual typewriters did not have that ability to correct, such as a correction tape until the late '60s, Osmond said. 
Manual typewriters were utilized by mainstream society until around the 1960s when "they kind of dwindled out," in favor of electric typewriters, Osmond said. 
"The idea was that it could help you go a little faster somehow," Osmond said. "Or maybe it was just an idea that electricity is better."
Electric typewriters served as the "precursor to computers, or at least the keyboard," as they look almost exactly like the modern-day keyboard. 
"It is still kind of the gold standard among computer nerds about how a keyboard should feel," Osmond said. 
Each typewriter in his collection boasts its own unique story. Anytime he can hear the story, "that's what I am most interested in," Osmond said. 
One specific typewriter claims 1947 Nashville, Tennessee as its birthplace. 
"The fact that it's from Nashville in 1947 makes me imagine whose country music, like a contract, could have been written on it," Osmond said. "It is evocative of where they are from, but some of them have actual stories."
Osmond said he is one of "quite a few typewriter enthusiasts in the world," as typewriters have gained increasing popularity in the last decade. 
"Other individuals who have had the same experience as himself, and are participants as well in a little bit of backlash against digital technology," Osmond said.  "The bug hasn't bitten very many people, but when it bites, it bites hard."
Scotty Huger, a junior elementary education major, attended the event with his class, as a way to reduce stress before finals. During the event, he used a typewriter for the first time. 
"It is so calming and relaxing just to sit and not have the distraction of being on your Mac which is constantly popping up with notifications and things to do," Huger said. 
Huger said what made the experience incredible, was the fact that "It's' just you and this machine," working in tandem with one another. 
"In some ways people had it right in the 1900s not having an excess amount of technology constantly at your fingertips," Huger said. 
He said he plans to integrate typography into his classroom in the future. 
"If someone needs to just go sit and type without the distraction of peers or teachers," Huger said. "Taking that step back can be really helpful mentally for everyone"
Typography helps keep things simple, and positively contributes to life while not overcomplicating it, Huger said. 
Huger and his classmates tried out a few of the various typewriters in Osmond's collection.  
Osmond buys his typewriters from places like Ebay, Facebook Marketplace and Craigslist. In order to procure machines, he even journeys outside of Boone to other cities like Asheville, Greensboro, Winston-Salem and Charlotte. 
Osmond said he utilizes the typewriters he collects to work on the manuscript of his book, which focuses on preventing burnout and sustainable practices in education. 
"The great thing is, when I sit down at the typewriter, I can really write anything, as long as I have paper and ribbons," Osmond said. "The typewriter's not going anywhere, so a big piece of it, over the long weeks and months, has really been an invitation to a whole different relationship with myself and the world." 
Osmond said he cannot articulate how writing on a typewriter has positively influenced his life. 
"My life is so much calmer and more peaceful, and I feel more rested," Osmond said. "I want people to take the chance too and see if it does the same thing for them."