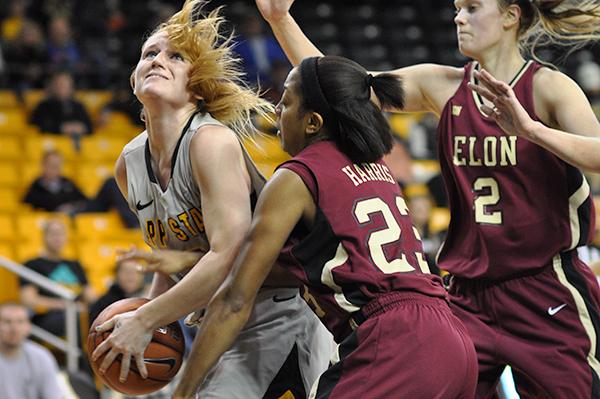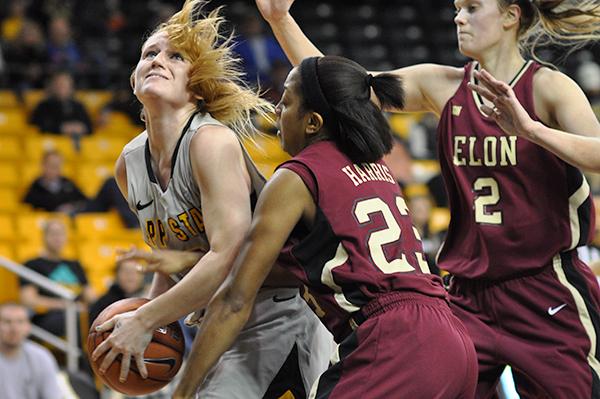 The Appalachian State women's basketball team was able to pull out a strong victory over Southern Conference rival Elon Saturday afternoon at the Holmes Convocation Center, 80-62.
The Mountaineers (13-5, 7-3 SoCon) came barreling into the first half and quickly took charge against the Phoenix (11-9, 8-3), never allowing them to take the lead during the game.
In typical Mountaineer style, the game was physical and both teams had players in foul trouble. The Black and Gold's Courtney Freeman and Kelsey Sharkey both fouled out late in the second half.
Elon struggled early to connect with the basket, making only 23.5 percent of field goals, while the Mountaineers slightly outpaced them with 39.3 percent of field goals in the first half.
Sophomore guard Jessica Barrios played in her first start of the year and proved to be an asset to her team as she put eight points up on the board.
"I love to play the game," Barrios said. "I keep saying that I want to help my team in any way possible and this was an even better way to help the team."
Barrios and her teammates spent a good majority of the game putting pressure on Elon's guard Ali Ford, eventually causing her to foul out of the game with 3:19 left in the second half.
"I had to stay with Ali the whole time and just make her mine and frustrate her the whole game," Barrios said. "That's what I needed to do to help my team today."
Heading into the second half the Black and Gold had a lead of 36-26, and wasted no time in leaving the Phoenix behind them in the dust.
At the start of the second half, both teams seemed to have trouble holding on to the ball, but eventually Appalachian took control.
The largest lead of the game came when the Mountaineers lead by 22 points during the second half with 2:43 left.
Anna Freeman had a career-high 26 points and received her 15th double-double of the season. Maryah Sydnor and Kelsey Sharkey both shot in the double digits, scoring 19 and 10 points respectively.
Appalachian finished shooting 46.6 percent, while Elon shot only 30.3 percent.
The Mountaineers return to action when they travel to Georgia Southern Tuesday to take on the SoCon rival for a second time this season. Tipoff is set for 7 p.m.
Story: KAITLYN THRUSTON, Senior Sports Reporter
Photo: JUSTIN PERRY, Paul Heckert