Things can change very quickly in the game of football, and KaRon "Simba" White knows that better than most.

White was a promising young defensive lineman at App State; a three-star recruit out of Sparkman High School in Harvest, Alabama, who didn't have to wait long to see the college field.

He redshirted his first year in the High Country, playing four games and recording two tackles before suffering a season ending injury. In White's redshirt freshman season, he bounced back, playing in 11 games and totaling 10 tackles.

However, before the start of this season, a previous issue resurfaced and changed the trajectory of his career. 

"I had a spinal cord injury," White said. "It's kind of been prolonged throughout my career here. It's been getting worse and worse, so the doctors said that they didn't really feel safe putting me back on the field."

This prompted a variety of emotions from White, the coaching staff and the team, as he was expected to take on an even bigger role this season and in the future.

"At first it really felt like my whole world was crashing down," White said. "Because you do something for so long, I've been playing football since I was 4, so it's like my whole identity really."

White's teammates felt the impact in a similar way. Being around him on a daily basis both on and off the field, they knew what playing football meant to their fellow teammate.

"It was very hurtful for us," said junior defensive lineman DeAndre Dingle-Prince. "It's like losing a brother in your family, you know. App is a family and whenever you have somebody that goes down it really hurts you."

If I could coach at App State, that would be my dream job

— KaRon White

The coaching staff also felt the impact of White's loss, as many coached him since he was a freshman and knew him since high school.

"It was disappointing cause he was such a great player and he's a better person," said head coach Shawn Clark. "He's such a valuable asset to our program in every phase we got, so again, we were all upset like he was, but you know, first and foremost it's about his health and moving forward."

Faced with this development, the coaching staff decided despite White being unable to play, he could continue to be a valuable asset to the team as a coach.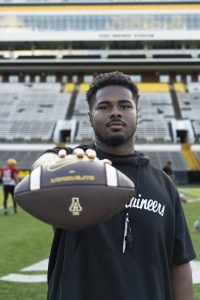 "I've always wanted to go into coaching, I came from a family of coaches, so that just seemed like the logical thing," White said. 
White's role as a student assistant is working with coaches, breaking down film and answering questions other players may have. His transition into this role has been seamless according to his fellow coaches and teammates.
"Same old Simba man," Dingle-Prince said. "You know, his personality is never going to change, he just has a different position and he's worked hard for it."
Even though White was a member of the coaching staff, things were not all that different, Clark reflected on the change.
"It's a smooth transition," Clark said. "He wants to be a coach when he graduates from college. I think that the biggest difference for him now is that when he has free time instead of going back to the dorm, he has to come over here and break down film and get in the game planning."
White admitted there is a learning curve involved in the player to coach transition.
"I will say that the people around me have made it a lot easier. I've actually handled it a lot better than I thought I would," White said. "Football is football regardless, but you're definitely looking at things from different perspectives and in different analytical ways."
White's shift into coaching may have come a lot sooner than he wanted, but that isn't stopping him from dreaming about the possibilities this new career path can bring.
"The real goal that I've had, I want to be a head football coach," White said. "I want to work my way up through the ranks, go through defensive line coach, defensive coordinator and end up being a head football coach one day, maybe here. If I could come back here and coach one day, if I could coach at App State, that would be my dream job."
No matter what happens in his career as a coach, White has already adapted and overcome a series of difficult obstacles.