With the beginning of a new school year, for some students, comes the decision of choosing a major or an area of study. 
Students can officially declare their major by the time they have obtained 30 credit hours and taken the required courses. However, students can wait until they have earned up to 60 credit hours to declare their major, allowing time to choose for those who are undecided. 
According to the Academic Programs portion of App State's website, the university currently offers more than 150 undergraduate majors and over 80 graduate programs.
Although there are many majors, some may not feel there is something for their interests, as some majors are more common than others. However, there are some majors that are derived from unique niches and fields of study, allowing students to study something that truly interests them. Students from these majors shared their experiences for students deciding their major.
One unique area of study offered to students, Appalachian Studies, focuses on the teaching of culture and knowledge of the Appalachian region. Appalachian Studies is offered as a minor and through the Cratis D. Williams School of Graduate Studies as a master of arts.
Second-year graduate students Sammy Osmond and Jesse Barber are studying Appalachian Studies and are currently working on a project related to folklife documentation.
Osmond said his studies have changed the way he perceives the Appalachian region. 
"It's changed the framework of my mind as I travel through Appalachia to go and interview people and meet a lot of people," he said.
Osmond said he initially did not intend to attend graduate school, but he was offered a scholarship through an outside organization to conduct interviews. He said through the program he has been able to interview people of a wide variety of professions including basket weavers, historical interpreters, musicians, potters and cooks. 
He said the work is rewarding and has allowed him to form several relationships with people he interviewed.
Osmond majored in documentary film for his undergraduate degree. He said Appalachian Studies has given him experience that he will apply to his undergraduate degree and career. 
"It's a really great extension of what I was learning as an undergraduate student," he said.
Osmond said students from numerous career paths are in the Appalachian Studies program.
"Appalachian Studies students have a really wide range of interests and are really kind of all over the map," he said. "And you know, there is no prototypical App Studies student."
Barber also commented on the community of Appalachian Studies students.
"That's, like, the closest friends I have in my studies," Barber said.
He said he traveled with his fellow students to an Appalachian Studies conference where he was able to meet several people studying similar topics.
Barber, who completed his undergraduate degree in interdisciplinary studies, said he decided he wanted a master of arts in Appalachian Studies after taking related undergraduate classes such as Appalachian literature.
He said one thing he has learned from his studies is how important building connections are, such as those he has formed through his interviews and photography with those from the Appalachian region.
"Wherever I go in the world, I like to create space for connections with strangers and the intimate connection to hear their stories or what's important to them," Barber said.
Barber offered advice to any students considering the course of study.
"Don't be afraid to join in, you never know who you're going to be standing beside," he said. There's just so many fascinating people doing fascinating stuff and you would never know it."
Another major with ties to Boone's eco-friendly culture and atmosphere is sustainable development, which is offered as an undergraduate major of study.
Fourth-year sustainable development student Caila Cater-Edwards said she originally wanted to go into a culinary-related field. However, after hearing about an App State student's experience as a sustainable development major, she chose to major in sustainable development because she wanted to gain a deeper understanding of sustainability as it relates to foods and crops.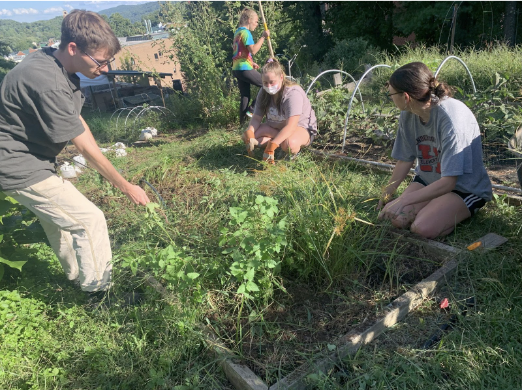 "I knew how to cook the food, but I wanted to learn how to grow the food that I cook and how to do it in a clean, healthy way," she said.
Cater-Edwards also said she wants to learn how to solve problems through sustainable development.
"I feel like now we are starting to see that there is a lot of things wrong with the world and how the world is run," she said. "We need to fix that, and I feel like those in my major especially, we are really big on trying to find ways and working to solve those issues that we're seeing today."
She said the major is not limited to sustainability, but also social and economic values.
Sustainable development students are given the opportunity for a more hands-on learning approach by visiting a local farm where they can observe and ask questions related to sustainability. Additionally, there is a garden on campus located near the Living Learning Center where students can grow crops.
While she does not know what her exact career path will be yet, Cater-Edwards says she wants to help make a change by using the information she learned through her field of study.
"I'm not sure quite where yet where I would fit, but I really want to work with communities and making sure communities that are food insecure, that they have a basic need food," she said.
While Cater-Edwards combined her passion for food studies and helping others, junior Katie Walters combined her love for music and psychology. 
Walters is a music therapy major. She said music therapy has allowed her to combine two of her interests from different career backgrounds.
"Music is very creative and psychology's really science-based," she said. "So it was really just finding something that really combined all my interests."
Walters said music therapy can benefit people of different backgrounds in many different ways, such as helping with memory loss, mobility, or in cognitive ways.
Walters said music therapy is also beneficial in settings such as schools, hospitals or assisted living facilities, as well as many other environments.
In typical sessions, Walters says, patients are encouraged to participate in music-related activities, building on personal connections formed through music and using those connections to engage and benefit the patient. 
Walters said the program is very hands-on and the professors and students are very supportive.
"Just having the ability to step back and be like, 'It's okay, you know, I'm not an expert. I'm still learning.' I think they're very supportive of that," she said.
Walters said music therapy students must complete several music classes, such as music therapy, in addition to psychology courses.
Senior Thomas Prebeck is studying fermentation sciences. He said he wanted to study in the field after a trip to Germany with his father.
"When I went on that trip with my father, I saw how people bonded at these breweries. I've always wanted to create an atmosphere like that for people to go to," he said.
Prebeck said the field focuses on the biochemical reactions that microorganisms undergo to create different products, ranging from alcohol brewing to pharmaceutical biofuels.
"It's a pretty versatile major, I'd say," he said. "You're not really stuck to just the brewing winemaking and distilling."
Prebeck said the major requires cell biology and microbiology classes in addition to multiple chemistry classes. 
He said he had the opportunity to participate in hands-on experiences in the field, such as collaborating on a project with Booneshine and attending the North Carolina Winegrower's Association Conference.
Prebeck says his area of study would allow him to travel to different parts of the world.
"This is a great major if you do want to travel," he said.
He also said the department and the professors encourage communication and engagement.
"I would argue that we have the best department at the school," he says. "The professors are very knowledgeable on pretty much anything and it's really open communication between the students and the professors."