On Nov. 9 the Hughlene Bostian Frank Visiting Writers series hosted fiction writer Ashleigh Bryant Phillips and poet Matthew Wimberley. They both took turns reading some of their work and answering questions from the audience. 
Wimberly read for the group first, selecting three of his poems to share. He read "Two Letters from Leopold," "Listening to Possum Radio, the Anti-industrial Giant of the Mountains" and closed with "A Study of Horses." 
Additionally, after mentioning that he asks his students to memorize and recite poems for his classes, he recited "Bear" by Galway Kinnell.
"When I write, it's scary when it becomes a poem because then you have to do something with it. You write to surprise yourself," Wimberley said. 
Wimberley is a guest teacher in App State's creative writing concentration of the Department of English. He is acclaimed for his poetry and was the recipient of the William Matthews Prize in 2015. His work was also included in the Best New Poets Anthology in 2016.  
A native to the Avery County area, Wimberley finds himself constantly inspired by the heritage and culture of the Blue Ridge region. Even while pursuing his graduate studies at New York University, Wimberley recounts his feelings about the mountains being his obsession.  
"Nowhere else is really like this place, I find myself constantly writing new material inspired by these mountains every day," Wimberley said.
In addition to his own childhood nostalgia, Wimberley is most inspired by the aspects of nature akin to Appalachia for his poetry, such as neighborhood creeks, verdant flora and mist-covered mountains. 
He also accredited Yusef Komunyakaa as a great mentor and collaborator to his work, describing his philosophy on the art of writing poetry to be incredibly influential in his own career. 
"Maybe we just write one poem, which I think is true. I don't find myself writing poems as much as I find myself a poem. I'm always trying to write the next poem," Wimberley said. 
Wimberley currently has two poetry selections published: "Daniel Boone's Window" and "All The Great Territories." They can be purchased anywhere books are sold.
Phillips read a short story from her collection "Sleepovers" titled "Earth to Amy." She also read an untitled poem to close her portion of the reading.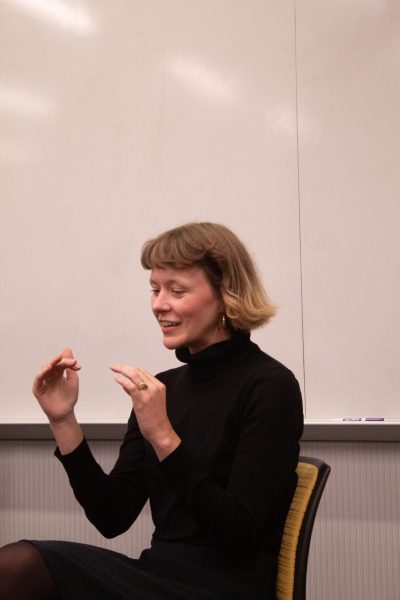 Phillips is a guest teacher in App State's English department. She will teach Intro to Fiction and Advanced Fiction in the spring semester.
"I tell all my students this Jack Kerouac quote: 'No fear or shame in the dignity of your experience, language, or knowledge,'" Phillips said. 
When Phillips decided to publish "Sleepovers," she submitted the collection to the C. Michael Curtis Short Story Book Prize. After a lengthy process, Lauren Groff selected Phillips' work as the winner of the prize and offered her a publishing opportunity. 
"I want to explore what I don't understand. I'm constantly observing what's happening around me. Many of my characters are former selves, and when I return to childhood–that does feel like the purest connection," Phillips said. 
Phillips said she is most inspired by authors Ludmilla Petrushevskaya, Annie Ernaux, Steve Dunn and Carson McCullers.
During the question and answer section of the event, students could dive into the creative process and approach for both Wimberley and Phillips. At the conclusion of the event, the writers stayed behind and signed copies of the books that were for sale and chatted with faculty and students in the Plemmons Student Union lobby. 
"Don't force yourself to be a writer," Phillips said. "Do it because you have to."