Since stepping on campus in 2019, graduate student goalkeeper Kerry Eagleston has made her presence felt. She's started in 90 games for Mountaineer soccer, setting multiple program records, including 416 saves and 25 shutouts. 
Eagleston, a social work major, is not one to focus on individual stats or records, but more on team success and making sure she's doing right by her teammates.
I couldn't be happier here
— Kerry Eagleston
"My teammates drive me every day. Being able to come out and play for them, and I know they come out to play for me," Eagleston said. "It's been so much fun being here and being out there with these teammates."
Eagleston saw great success in her high school career, achieving a record of 77-6-5 and only allowing 29 goals during her entire four-year career at West Forsyth High School in Clemmons, North Carolina. She was named all-conference and all-region each year and helped her team capture the 2017 North Carolina High School Athletic Association 4A State championship. 
Coming out of West Forsyth, Eagleston had an offer to attend another university, but found out very late App State was interested in bringing her in as the starting goalie as a true freshman, an opportunity not a lot of people receive at such a young age. 
"I hadn't been in contact with App State before my club coach had told me that they were interested in me, and something inside of me thought I should reach out to them immediately," Eagleston said. "I honestly couldn't tell you what it was, but I just wanted to go to App over this other school and I'm so glad I made that choice because I couldn't be happier here."
Eagleston's freshman year saw her start in all 18 matches while racking up 79 saves, ranking second in the conference and first among freshmen. Eagleston finished third in the Sun Belt in saves per game at 4.28, highlighted by a 12-save outing on the last day of the regular season against Southern Alabama. 
While an impressive individual year, it didn't correlate with the team's success as the Black and Gold finished the 2019 season 5-10-3, and missed out on the Sun Belt tournament. 
Eagleston's sophomore season saw previous seasons success awarded as she was named preseason All-Sun Belt to start the year. Although the team finished 6-11-1, Eagleston achieved her first-ever Sun Belt tournament win with a 2-1 double overtime victory against ULM, but couldn't get past No. 1 seed Arkansas State. 
Her junior and senior seasons followed much of the same path the first two years had laid out for her. Eagleston led the Sun Belt in saves in both seasons, stopping 206 shots between the two years, but she saw a huge cultural swing when head coach Aimee Haywood was hired in her senior season.
"When this coaching staff came in, the team culture changed a whole lot," Eagleston said. "I contribute that to Aimee directly." 
As many players received an extra year of eligibility due to the pandemic, Eagleston was fortunate enough to get the extra year. However, the decision to come back was one that never weighed on her mind.
"I had been going back on it for a while," Eagleston said. "I knew I had that extra year of eligibility and for what I want to do post-soccer, getting a master's degree would be very useful for me so school was definitely a factor, and being around the coaching staff another year was another big factor."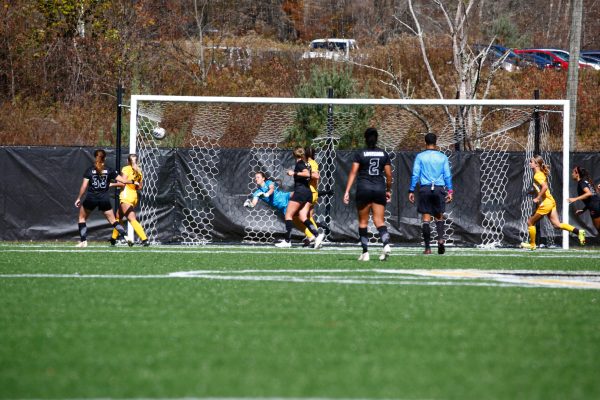 Coming into the year it felt like the culture Haywood and her staff were building, mixed with a veteran defensive line would pay off for one of the best years App State soccer has seen. The team finished 9-6-2 overall, 6-2-2 in the Sun Belt and ended the year 6-0-2 at home to claim the highest placing ever for the Mountaineers at the Sun Belt tournament. 
"If your team feels confident in your goalkeeper, it empowers them to play an aggressive and confident style," Haywood said when asked what Eagleston's role was in this season's success. "That's a building block you have to have. She allows us to play more freely and press and do things we want to do."
Playing behind an elite and experienced back line allowed Eagleston to play a lot more confidently and trust her teammates would have her back. That showed in the final games of the year as the team finished the season 4-1 over the last five games, outscoring opponents 9-2 and clinched two shutouts. Eagleston's record breaking 25th career clean sheet came in her final regular season match against Georgia State.
"Kerry just has such an amazing voice and role on this team," said sophomore defender Shannon Studer. "She's always making sure I'm in the right place at the right time. She encourages me to drive, play back to her, and stay on that back line. When it comes from Kerry you listen."
Studer mentioned her favorite moment while being teammates with Eagleston did not come on the field, but rather the time spent off the pitch. Whether it was rides home from practice jamming to music or ranting to each other about what's going on in their lives, Eagleston means the world to Studer, the program and every Mountaineer fan at home.
App State finished their record breaking year in a heartbreaking 2-1 overtime loss against James Madison, a team they had drawn earlier in the year. Eagleston had nine saves in her final game as a member of the Black and Gold. 
"Thank you for your support, it has meant the world to me," Eagleston said. "I definitely would not be where I am without the App State community and my teammates. I'm very grateful and very blessed to be a part of this team."