Leon Levine Hall of Health Sciences begins move-in
Last week, the new Leon Levine Hall of Health Sciences began to hold its first classes. While students filed into the building, construction continued on the fourth and fifth floors inside and out.
LLHS began holding classes for four of the programs that will be housed in the new building. Programs with classes held in the new hall include Public Health, Department of Nutrition and Health Care Management, Department of Social Work, and Department of Communication Sciences and Disorders, according to Megan Hayes, associate vice chancellor and chief communications officer for University Communications.
The building will also hold nursing classes, which are to be phased in at a later date.
"There's so much space for people to spread out," Anna Wagoner, sophomore communication sciences and disorders major, said. "The part that will probably help me succeed the most is how many comfy study chairs there are and how many rooms you can work on school work in."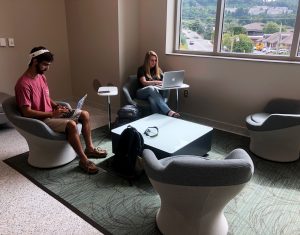 The Beaver College of Health Sciences offers 16 graduate and undergraduate degrees.
"Nearly 20 percent of Appalachian's students are taught by Beaver College of Health Sciences faculty," Hayes said via email.
The new LLHS building is expected to have 60 faculty members and 950 students attending classes in it by next week, according to Hayes.
"Our phased-in moving plan has been designed to have as little disruption as possible to the academic experience of our students, and we expect to be fully moved in by fall break," Hayes said via email.
App has also arranged for there to be multiple buses going to and from campus and LLHS, including the Wellness District Shuttle, the Red Route and the Express Route.
"I think this building will be a great way to connect to others within my major as well as with faculty who are in support of my major directly," Sydney Shank, sophomore communication sciences and disorders major, said.
App State was given a grant of $5 million by The Leon Levine Foundation of Charlotte in January and decided to name the new building after Levine to thank them for the donation.
Funding for the building also came in part from a bond called "ConnectNC," which was approved in March 2016. In addition, land for the building was donated by Appalachian Region Healthcare System to App State in 2012, according to the App State Health Sciences website.
"This state-of-the-art building, which is the first of the projects funded by the ConnectNC Bond to be completed, will help increase access to quality health care in rural regions of North Carolina and will provide excellent opportunities for cross-disciplinary learning for our students," Hayes said via email.
The 203,000-square-foot building features offices for faculty members, and information commons, interactive labs and a cafe.
There will be a ribbon-cutting ceremony to honor the opening of the building on Sept. 21 at 1 p.m.
Story by Jackie Park
Photos by Moss Brennan
Featured photo caption: The new state of the art building for the Beaver College of Health Sciences has multiple spaces for students to wait for their class or get work done.