Avery County support group brings pets to the front of the line
Hollie Moore, Associate News Editor
October 25, 2022|427 Views
Just as every area has its fair share of abused and neglected pets, Avery County is no different; however, two women decided to make an impact with the beginning of a simple Facebook page, Avery County Animal Support.
Approximately 6.3 million animals enter U.S. animal shelters annually nationwide, as estimated by The American Society for the Prevention of Cruelty to Animals. That's roughly the entire population of Missouri.
Avery County has a population of about 17,000, according to the 2020 United States Census Bureau. In that 247 mile width, two people hold a much appraised position in the world of pets, Ellie Leka and Emily Jo Turbyfill.
Leka, 25, created a Facebook group to serve as a support and rescue option for abused, neglected, lost and surrendered animals across Avery County.
With no animal control, no animal rescue centers and a humane society with limited space and a strict acceptance policy, Leka and Turbyfill decided to help.
Avery County Animal Support was created in February 2021 after Leka moved back to the area from her residence in Florida. 
Turbyfill messaged Leka offering to help her. Without Leka knowing her prior to the message, she accepted the offer and said Turbyfill seemed to "fall from heaven."
Turbyfill started working at the Avery Humane Society right out of high school, having grown up in Avery County, and adopted prior experience with stray and struggling pets.
"Almost my whole entire life I have been helping animals just any way that I can," Turbyfill said. "I tried to help animals as much as I could but not anything to this scale."
Leka had experience helping with stray and helpless animals as she attended college in Tennessee and lived in Florida before moving back to her hometown in Avery County.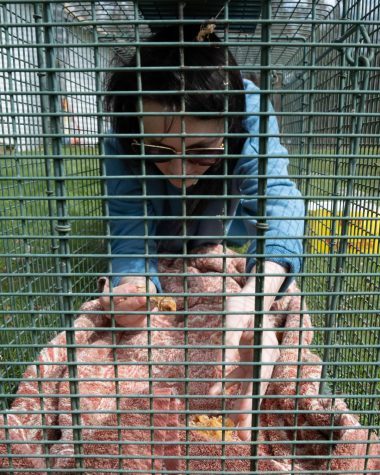 Leka said her mom used to bring her and her sister to the animal shelter when she was young to play with the animals.
"Truly my first memory is being at the animal shelter playing with animals," Leka said. "Eventually we would go so much that we would bring some home to foster."
The most defining moment of her rescue experiences was when her mom asked her to help rescue a litter of kittens stuck in the insulation of their neighbor's house, Leka said.
The area was about 1 foot by 1 foot and at 6 years old, Leka was the only one who could fit in that crawl space. Her mom sent her in with scissors to cut the kittens out of the insulation, saying she "remembers it so vividly."
Both Leka and Turbyfill work jobs outside of their animal support organization; Turbyfill works third shift as a 911 operator at the Avery County Communications Center and Leka works virtually for a wealth management company based in Florida.
There was a dog who had been roaming the county for months with sarcoptic mange; a contagious mange caused by mites burrowing in the skin, especially of the head and face. Leka said her inspiration rose from this dog. 
Since there is no animal control in the county, everyone who tried to pick up the dog said she was too scared and the Avery Humane Society doesn't take any animals who are sick, injured or too young to eat hard food, Leka said.
As written on the Humane Society website, they are a "limited admission" facility. For insurance and liability reasons, they are limited to how far they can go to take in an animal.
"There have been a couple really sad situations that made me and Ellie more mad and motivated from our anger," Turbyfill said. "We have had several who have died and that always makes you so mad."
Avery County Animal Support supplies dog houses, bedding, cat and dog food to people struggling financially and spay and neuter assistance, Leka said.
"People, including us, are opposed to dogs living outside, especially in our mountainous area, however, it is not illegal for a dog to live outside," Leka said. "So if they're going to keep their dog, we are going to supply them with a good dog house and bedding."
The group is fundraising particularly to spay and neuter pets for people who can't afford to.
"The only way to get us out of animal overpopulation and to stop this is to spay and neuter," Leka said. "You can't rescue your way out of it."
In the past year, they have helped about 300 pets, Leka said. The pets live in Leka and Turbyfill's houses. 
The pair obtained their 501(c)(3) in late September, which is an exemption from taxes for any money raised. It says no money is given to individuals or businesses but rather put into the cause. 
"The more awareness we get, the more animals we are able to help," Leka said. "If we get a terribly neglected dog and post its picture, like, five people message us about neglected animals that they know of that need help."
Without a rescue center or high capacity humane society, the group transports animals throughout North Carolina and into northern states as well through "transport trains," as Leka describes them. People throughout states volunteer to drive the animals a select amount of miles to the next person until the pet arrives where it is intended to. 
The group partners with the Avery County NC Lost And Found Pets Facebook group. The group was made for people to post pets they have lost or have found in Avery County, said Amy Fox, one of the administrators of the group.
"That's kind of what we do, reach out and try to find someone that's a 501(c)(3), a nonprofit rescue that will take in a dog or cat," Fox said. "That's, you know, a daily passion. Ellie is the driving force."