Boonie's Chicago Style Pizza closing after two years
After two years of operations, Boonie's Chicago Style Pizza, located at 610 Blowing Rock Road, will close Jan. 31. 
"The rent was the biggest deciding factor," said Erin Quigg, assistant general manager of the restaurant.
Boonie's announced the closure in a post made on social media Jan. 11.
"We want to thank every person that has eaten, drank, laughed, played trivia, thrown darts and watched football with us here at Boonie's," read the post. "We are heartbroken to announce we are closing at the end of January."
Members of the community expressed their thoughts on the restaurant's closure.
"So sad to hear this!" commented Facebook user Lisa Rippetoe-Johnson. "Amazing pizza. Best around and always good service."
Others also commented on the post. "That's a bummer. Best pizza in Boone," user Ben Griggs wrote.
Wayne Duggins, the general manager of the restaurant, said the staff was notified of the closure at the beginning of the month.
Approximately 30 to 35 employees work at Boonies, most of which are App State students, according to Duggins.
"I think they've already found other jobs," said manager Sam McNeece.
Junior Mateo Oropesa, a criminal justice major, worked at Boonie's for the past four months.
"I feel really upset. Not only had I lost the job but I had to navigate Boone's difficult job market," he said.
Oropesa said due to the fact that he does not have a car on campus, his job options are limited to locations within walking distance. 
"I was lucky enough to find a job at the new Vicious Biscuit location here in Boone," Oropesa said. 
Oropesa said he had a positive experience from his time at Boonie's and that the staff and managers were "nothing short of sweet and understanding."
According to some employees, Boonie's might move to a different location, but no official decisions have been made.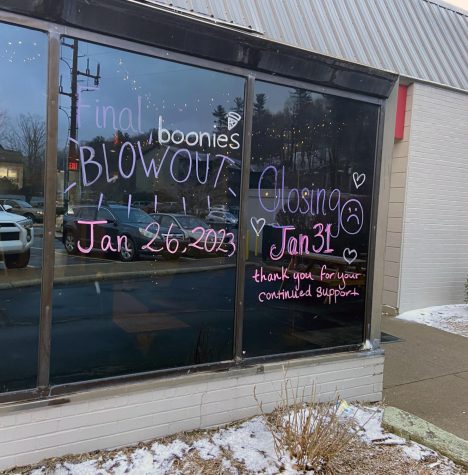 "​​They did say that they hope to move to another location — a smaller location," Duggins said. "But no word on that and take it with a grain of salt."
Additionally, Duggins said "a couple of people" are looking at renting the location and purchasing the equipment, but no official word has been confirmed.
Boonie's opened in October of 2020 under limited operations such as delivery and take-out. The dining room opened in January 2021 and the bar opened in February of the same year.
"They put a lot of time into this place and I think starting it during COVID was a massive setback," said Duggins.
Boonie's will host its final trivia event Jan. 26. Additional specials on food and drinks will be offered.